Unanswered Questions Surround Potential Samsung Galaxy Fold Sale.
(ThyBlackMan.com) The Samsung Galaxy Fold is everything you see in sci-fi movies – a thin, all-screen device with no bezels and can be folded in half. Smartphone manufacturers had been trying to achieve this for a decade and now it has become a reality. When Samsung is all set to launch its Galaxy Fold and many other companies such as Huawei and Motorola are also working on foldable phones, it seems no company is ready to answer important questions.
Why would anyone want a foldable phone?
It's a well-known fact that there are many types of customers with different interests. It is also true that a single product cannot satisfy all of them. But if we look at the practicality of a foldable smartphone display, there's no concrete reason to believe it's needed. A foldable phone like the Samsung Galaxy Fold would be cool to have for novelty, but it's nothing more than a temporary change. The Galaxy Fold is certainly not something many people would rush for.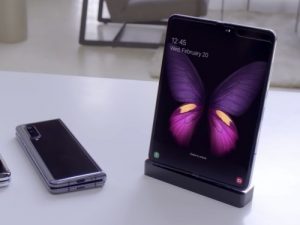 What about gaming on the Samsung Galaxy Fold?
There are dozens of stories on the internet claiming that mobile gaming will see growth at a faster rate once after the foldable phones arrive. The base of most of these stories is only one thing – a bigger display. The mobile gaming market has seen tremendous growth in the last five years, but it's not just the screen size that matters. If it was the case then we already have options like iPad and handheld consoles.
Those who play games on mobile don't just focus on the screen size. There are many other factors that players consider – device's dimension, controls and so much more. Playing games on a display supported by a hinge and can be folded in half doesn't look like a convenient option. Imagine you're holding the Samsung Galaxy Fold in your hand and playing an FPS that requires strong coordination between your fingers and thumbs. With a foldable phone, you will have to be careful about accidental folds. We do not see any locking mechanism in the hinge. Putting pressure on the edges will force the device to fold in half.
How durable is the Samsung Galaxy Fold?
The smartphone's display is the only most important feature that Samsung is going to highlight in its marketing material. The 7.3-inch display looks beautiful, but it's not durable. A report by Bloomberg suggests that creasing issue crops up just after 10,000 folds. If we look at the average usage, people unlock their phones many times. If we keep that count to 50 unlocks per day, the display won't even last for a year. Even if you cut this number down by 50 percent, still nobody would expect a $2000 phone's display to die after a year from the date of purchase.
It's strange that instead of finding a solution to this problem, Samsung is promising free display replacement. This again raises questions about the durability of the Galaxy Fold. Putting free replacement as the best solution doesn't sound realistic. Free replacement is not a convenient solution and it actually is a red flag.
It's just an experiment and it's temporary
If you think that foldable phones like the Samsung Galaxy Fold can shake things up on a large scale, that won't happen. If Samsung answers all the questions and addresses all the challenges, the smartphone will get some solid appreciation and praise, but people won't enjoy this new idea for a long time.
The Samsung Galaxy Fold is just a part of the experiment. It is in a phase where the manufacturer will use it as a stepping stone to build something better. There are hundreds of examples of things which were invented before the need was created. With Samsung, it's the same thing. The company has worked on display technology and introduced it. Now it's up to the users to find what they can do with it.
Staff Writer; Corey Shaw
Have any Tech Tips? News? Hit up our Tech Guru at; CoreyS@ThyBlackMan.com