Rush Limbaugh Is Right; Idris Elba Is No James Bond.
(ThyBlackMan.com) It would be a misrepresentation of the truth, a statement that is commonly called a lie, if I stated that I never thought that I would be forced to search through my hard drive to find something that I penned over half a decade ago. In fact, the posting that I searched for was one of my initial postings as I ventured into blogging. Nonetheless, here I am. Recent events have led me to deal with Idris Elba, a figure that I first came into contact with as the infamous Stringer Bell on the iconic show The Wire. Idris Elba's name has resurfaced in my world as he has been selected to assume the iconic role of James Bond. This posting is dealing with the many issues that flow from Elba being selected for the iconic role.
Let me forthrightly state at the very beginning of this posting that I do not support the decision-making process that has led Idris Elba to be cast as James Bond.
Let me be clear in this matter. My opposition to this casting has nothing to do with a failure to understand that James Bond is a fictional character, a designation that provides writers and directors incredible flexibility in regards to casting. The genre of fiction provides options for casting agents, thespians, and directors that are unavailable when historically based non-fiction projects are being developed; unless we are talking about an Egyptian story that allows White actors to assume roles ranging from Cleopatra to Jesus. However, I am determined to not be sidetracked by such matters at this moment.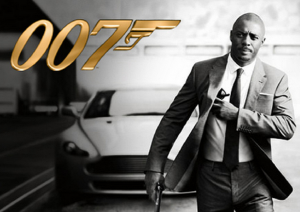 Although it may seem a blatant contradiction, I do not have a single issue with Ian Fleming's "Bond" being portrayed by the London-born Elba. Not even the fact that this fictional character has Scottish blood running through his veins; heck Idris Elba is "British." Years ago, the ridiculous Rush Limbaugh issued a temper tantrum that merged the writing genres of non-fiction and fiction by positing that if Idris Elba could be the next 007, there should be no resistance from Black America if Kelsey Grammer were cast as Nelson Mandela or if white actors were cast as President Barack Hussein Obama and First Lady Michelle Obama. Obviously, Limbaugh is conveniently refusing to acknowledge the options that fiction provides, options that are unavailable when screening non-fiction historical pieces.
Chris Rock makes this very point when he relates, "I remember when they were doing Starsky & Hutch, and my manager was like, "We might be able to get you the part of Huggy Bear. I was like, 'Do you understand that when my brother and I watched Starsky & Hutch growing up, I would play Starsky and he would play Hutch? I don't want to play f—ing Huggy Bear. This is not a historical drama. This is not Thomas Jefferson. It's a movie based on a shitty TV show, it can be anybody.'"
Although I understand that "politics makes for strange bedfellows," my resistance to Elba being "Black Bond" has nothing to do with Limbaugh's stance.
This matter actually reminds me of a scene in Spike Lee's master film Bamboozled, when a group of writers, all of them White except for lead character Pierre Delaqua, played by Damon Wayans, meet to discuss a new project. One of the White writers, realizing that he will be working on a Black comedy, notes the absence of Black writers involved in the project by proclaiming that he is a damn good writer and is ready to write. He neither cares nor is concerned by the absence of Black writers and attributes their absence to either refusing to work for the pay or simply not being good enough writers to work on the project.
One will find within the above diatribe why I have an issue with Idris Elba being the next "Bond." I feel that Elba is indirectly being forced into the role due to the lack of such roles about the Black experience. It is not difficult to understand that there are few roles available for the embarrassment of riches that we have right now amongst Black male actors (Samuel L. Jackson, Jeffrey Wright, Denzel, Charles Dutton, Idris, Laurence, Danny, Cuba, Don Cheadle, Ving, Michael Jai White, etc.) and Black female actors (Angela Bassett, Aunjanue Ellis, Halle', Taraji, Nia, Sanaa, Whoopi, Thandie, Viola, Queen Latifah, Kimberly Elise, Regina King, Alfre, Oprah, Lupita, Phylicia Rashad, etc.).
Who is to blame, apparently the blame should be attributed to an industry that has few, if any, Blacks capable of "green lighting" major productions. Amazingly, there are a few Black actors who disagree with this contention. Anthony Mackie, who has appeared in several films of note such as Million Dollar Baby, is one such individual. Mackie foolishly states that the absence of Black roles is attributable to Black actors and writers whose laziness precludes them from telling their stories. Fortunately for Black actors, not even The New York Times, in a piece titled, "Hollywood's White" refutes Mackie's asinine assertion by penning,
The consolidation of a black presence in the movies and television did not signal the arrival of a postracial Hollywood any more than the election of Barack Obama in 2008 spelled the end of America's 400-year-old racial drama.
Most will agree that as in an overcrowded industry, the competition for work in Hollywood is fierce. The alluded to competition will occur regardless of an actor's Race, ethnicity, or gender.
Black Hollywood insiders have taken issue with the above perspective as it communicates a general, yet widely accepted untruth. That untruth being that there is work to be fought over. Hollywood icon Chris Rock shared the following.
It's a white industry. Just as the NBA is a black industry. I'm not even saying it's a bad thing. It just is. And the black people they do hire tend to be the same person. That person tends to be female and that person tends to be Ivy League.
It appears that very few Blacks are working regularly in major films in front of or behind the camera. Although times have gotten better, the referenced improvement is relative. Rock chimes in again with a poignant observation regarding Black men in Hollywood.
But how many black men have you met working in Hollywood? They don't really hire black men. A black man with bass in his voice and maybe a little hint of facial hair? Not going to happen.
So as previously stated, I partially agree with Rush Limbaugh regarding Idris Elba's appearance as James Bond. I have no doubt that he will be the best "Bond" ever, I just think that it is patently unfair that there are not similar stories written by Black writers for African-American actors/actresses that are being "green-lighted" in Hollywood. It appears that Elba may not have much a choice in regards to accepting the discussed role because not working at all is not much of a choice at all. Just ask any out of work Black actors/actresses, they are not hard to find at all.
Staff Writer; Dr. James Thomas Jones III
Official website; http://www.ManhoodRaceCulture.com
One may also connect with this brother via Twitter; DrJamestJones.