Mortal Kombat 11 Nintendo Switch Version is a Mixed Bag of Mostly Good Features.
(ThyBlackMan.com) Mortal Kombat 11 Switch version runs smoothly at 60 frames per second as reported by beta testers. Unfortunately, the game developer NetherRealm Studios didn't allow beta participants to record the gameplay. Some excited fans have shared their experience saying that the MK11 looks impressive on Nintendo Switch. Gameplay feels smooth and the game itself is capable of hitting 60fps on the handheld console, says a YouTuber.
Overall, the impressions have come as a relief to all those who were worried about the game's performance on Switch. But without seeing how Mortal Kombat 11 looks on Nintendo Switch, some people don't want to believe what's being said by testers. If you're planning to play Mortal Kombat 11 on Nintendo Switch, don't expect the visuals to be as good as they look on PS4 or Xbox One. This is one of the painful sacrifices that Nintendo Switch players will have to make.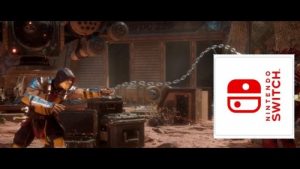 For Mortal Kombat 11, developer NetherRealm has made some major changes in character design. During a discussion with journalists, art director Steve Beran confirmed that the characters will look more mature and respectful this time. He also said for the female characters in the game, the studio has taken a more measured approach. "Not going to be showing so much skin," he said while speaking about the game's female characters. He admits that this decision might disappoint some fans, but he doesn't regret.
Interestingly, the series co-creator and creative director Ed Boon drew the first fatality of the game and the team followed his ideas. NetherRealm Studios has paid a lot of attention to the game design. This includes the use of new tools for graphics. Boon has worked closely with his team and made the graphics quality very realistic.
Mortal Kombat 10 was released in 2015 and the game runs on Unreal Engine 3. Its sequel also uses the power of the same game engine. The studio working on Mortal Kombat 11 has new tech and toolsets which it developed during all these years. The time developers got to work on the game was best utilized as the studio has confirmed that the new game is developed at a much larger scale than its predecessor.
You can, of course, expect the same intensity, bloodshed, and fatalities, but this time, these things are structured more tightly around the gameplay. The game is still the same the series is known for, but it's faster. The studio wanted to do something more than making a game with better graphics and new characters. That's good news for those who still think that Mortal Kombat 11 Switch version will suffer due to graphical downgrade. The game has "tons and tons of content," says Beran. From UX to voice over, animation and sound effects, everything is going to be different and better this time with all the mechanical changes in the gameplay and at the system level. Mortal Kombat 11 will be better than the previously launched games. Boon says "you can feel the change as soon as you pick up a controller."
All the new and improved features such as character customization give you full control over your character's personality. We have already seen the power of the game's graphics engine that helps bring some of the most amazing moments in Mortal Kombat 11. It makes the fights look real.
Mortal Kombat 11 Switch version is due for release on April 23. It will also be released for Xbox One, PS4, and PC on the same day. The game also features a roster of new and returning fighters. Those choosing Premium or Kollector's edition will get 6 extra playable characters and 7 exclusive character skins.
While that is all the studio has told so far about Mortal Kombat 11. We would like to hear your thoughts about Mortal Kombat 11 Switch version and what you're looking forward to. Share your thoughts in the comment box below.
Staff Writer; Jay Baker
Have any Gaming? Tech? Politics? Health? Business? News? Hit up our writer at; JayBaker@ThyBlackMan.com.