Trying to Find the Right Handgun? Consider These Helpful Tips For Success.
(ThyBlackMan.com) Protecting your home and family should be one of your main concerns. While there are a number of things you can do to increase your level of security, owning a handgun is one of the most effective. A recent study found that there is a gun for every citizen in the United States.
Most newcomers to the world of handguns fail to realize just how many options there are on the market. Rushing through this important decision will lead to a case of buyer's remorse. If you are in the process of trying to select a handgun to buy, consider the following tips.
Figuring Out What The Gun Will Be Used For
The first thing you need to think about when trying to choose a handgun is what you will use it for. If you are going to be keeping a gun in your house, the overall size of the handgun really doesn't matter.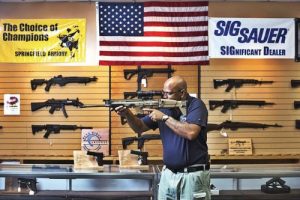 However, if you are going to be carrying a gun around on your person, getting a gun that is easy to wear in a holster is a must. Instead of trying to make this difficult decision alone, you need to reach out to professionals for help.
The team at Bellevue Gun Club in Bellevue WA can help you figure out which handgun is the best fit. Once you have purchased, you can use the gun range at this establishment to test out and get familiar with your new firearm.
The Overall Quality of the Handgun in Question
Handguns come in all shapes and sizes. There are tons of different firearm manufacturers and each of them produces their guns in a slightly different way. When attempting to narrow down the handguns at your disposal, be sure to consider the overall quality of the firearm.
Often times, newcomers to the world of handguns will buy the cheapest firearms on the market. In some instances, this may lead to problems in the long run if the cheaper gun does not function properly. While a higher-quality gun may be more expensive, they are definitely worth the investment.
Make Sure You Get the Right Grip Size
Going in and actually holding the handguns at your disposal is important. Without this firsthand experience, you will have a hard time getting the right firearm. When picking up and holding a handgun, pay attention to the size of the grips.
Ideally, you want to choose a gun that feels like it was made for your hand. There are many guns on the market that have replaceable grips and backstraps. If your hands are a bit bigger, you may have to buy a gun and then replace the grips to get a comfortable fit.
Consider How Easy Cleaning the Handgun Will Be
If you are a first-time gun owner, you need to choose a firearm that is easy to clean. When looking at different handguns, you need to ask the professional helping you how to take it apart to clean. They should be able to give you a breakdown on how to disassemble the gun and how often you need to clean it.
The last thing you want to do is get a gun that is too complex to operate properly. As time goes by, your handgun knowledge will increase. This means you can start to grow your collection of firearms.
The Right Supplier is a Must
If you are in the market for a quality handgun at a discounted price, finding the right supplier is a must. Choosing a supplier with a great deal of experience is essential when trying to get the guidance you seek.
Staff Writer; Jason Moore