Explore Career Opportunities with PMP Certification Atlanta!
(ThyBlackMan.com) In this extremely projectized world, PMI certification ensures you to be ready to meet the demands and challenges of the project management area. Unlike other certifications, PMP is entirely global and does not focus on any particular geography or domain.  With PMP, you are free to work with any industry, adopt any methodology and be at any location.
Getting PMP certified is a pretty logical step to take. But, some still hesitate as they think about whether it is worth the cost or not. PMP certification increases your salary significantly and enhances your earning potentials. PMP certification in Atlanta gives excellent chances to harvest its benefits. PMP certification holders reap substantially larger salaries than those who lack the official certification.
A PMP certification helps its achievers to master the languages successfully which one might not be able to efficiently learn during his on-job training. Taking a course to prepare PMP certification will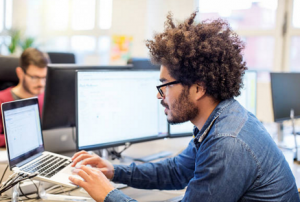 make sure that you are not studying just for the sake of passing the exam, but you have the intentions to learn the concepts taught to you when you are subjected to real-time situations and projects to handle.
Application Process
PMP certification has perks for members of PMI who get benefits in fees and price relaxation for PMBOK. Whereas the membership fee is $129 with joining charges of $10, the total comes out to be a benefit of all in all $11. Application for certification of PMP includes a couple of steps that one must follow:
You need to apply for PMP from certification.pmi.org
After application, you need to wait for 3 days to make the payment of your fees which varies for members to non-members of PMI i.e. a member of PMI needs to pay $405 and a non-member has to make an additional payment of $150.
Out of the total forms submitted after applications, around 5-10 per cent of the forms are randomly selected for an audit, for the verification of the essential documents. These essential documents include your qualifying degree, 36hours of project management education, and the required experience according to your qualification which should be duly signed by the authority. The candidate gets a timeline of 90 days to produce the same.
The rest 90-95 per cent of people directly get the authorization email to sit in the examination. PMI shall provide you with an authorization code which is to be entered on the Prometric site.
PMI Examination
After your documents are approved and you have successfully applied for the exam, you have one complete year to visit the respective site and take your exam as per your comfort. It is a four-hour test containing 200 multiple choice questions. The result of the exam is declared as soon as you finish taking the exam. The questions of a PMP exam are broken down into five different process groups with varying weight-ages
Initiation- 13%
Planning -24%
Executing-31%
Monitoring and Controlling-25%
Closing-7%
If you pass the exam in the first attempt, you will receive a result saying that you are a PMP certified professional now and that you can produce your credentials and add a star to your resume. Whereas, if in odd cases you are unable to crack the minimum marks criterion then you need not to be disappointed as PMP gives you three chances in total to take the test and be a certified PMP.
There is an additional fee for re-taking the exam that also gives a special benefit of $100 to the members of PMI. A non-member has to pay $375 whereas a member can settle for $275.
You will observe that cost of getting a PMP certification is not cheap, but definitely worthwhile. The higher salaries you are going to get after the certification is enough to compensate for the charges of the certification.
Maintenance of Certification
Certification renewal of PMP gives you a wonderful opportunity to learn the latest skills that can help you build a strong professional life. Also, it gives a chance for you to share your knowledge among others.
There are in all two types of Professional Development units that you can claim towards your renewal i.e. education and giving back to the profession. To maintain your certification, you need to earn and maintain 60PDUs.
Also, a renewal fee has to be paid by the certified professionals to maintain their certification i.e. $60 for PMI members and $150 for non-members.
A PMP certification can easily make you a desired candidate for all businesses in need of a project manager. Despite its cost, PMP certification offers a great deal of opportunities and recognition for an excellent salary hike.
PMP professionals are widely searched for in almost all the industries, due to their project handling skills, and time management qualities. PMP certified professionals can easily handle difficult and challenging projects within budget.
PMP certification has the potential to portray you as a qualified project manager. During the course for PMP certification, you will be given professional guidance and you will be trained to manage a project like resources, time, and money. You can even enroll yourselves in online training that will be a less hit on your pocket. However, if you are choosing an institute that provides classroom training, it is still not a big drawback.
Classroom training obviously has added advantages over online training as it gives you exposure to real-time problems, for which you need to find solutions, and handle them independently. Such training helps in overall development and you can use your experience in handling different challenging projects in future.
In addition to all the above-mentioned benefits of being a PMP certified professional, you can be sure of the job security. Even for the purpose of promotions to the post of Project Manager, a company prefers its employees to be PMP certified, so you cannot be sure of the rise in salary if you are not thinking of giving PMP certification a try.
Staff Writer; Greg Short