2019 Politics; The Sickness Behind Sickness in America.
(ThyBlackMan.com) Buried beneath a blizzard of news stories about Michael Cohen's sentencing, the sexcapades of R. Kelly and Michael Jackson and the Jussie Smollett fiasco was some interesting reporting on the deadly role of racism in contemporary American society.
A new study by the Trust for America's Health and the Wellbeing Trust revealed that in 2017 more than 151,000 people died from suicide and causes related to drugs and alcohol – an all-time high.  This follows a three year trend of decreasing life expectancy in America, while global life expectancy continues to rise.  Rural areas like Montana and West Virginia – Trump country – were especially hard hit.
In his just released book, Dying of Whiteness: How the Politics of Racial Resentment is Killing America's Heartland, Dr. Jonathan M. Metzl, Director of the Vanderbilt Center for Medicine, Health and Society gave some surprising and revealing reasons.  From his interviews with people living in rural America, he described the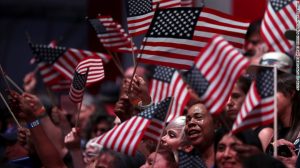 "mortal trade-offs white Americans make when they vote with the goal of restoring their racial privilege and end up endorsing political positions that directly harm their own health and wellbeing."
He found that policies promising to bolster white American's status have instead made life "sicker, harder and shorter" for all Americans.  For example, things like lax gun laws have resulted in increased white male suicides and opposition to the Affordable Care Act – Obama Care – shortens white life expectancy.  He cites his conversations with white Tennesseans who "voiced a willingness to die, literally, rather than embrace a law that gave minority or immigrant persons more access to care."
This information should inform Democratic policy positions as they prepare for the upcoming 2020 presidential elections.  Their internal debates over whether to seek to expand the base of minorities, millennials and women versus going after working class white voters who voted for Obama and then for Trump gain new clarity when viewed from the perspective of these findings.  Taken together with political studies of Trump voters in 2016, it's hard to see how any Democratic appeals for economic or social welfare programs to ameliorate racial disparities will overcome this deep-seated fear of loss of white privilege.
Since the imposition of tariffs on China and during the government shutdown earlier in the year, we have seen the president's supporters, who despite personal losses, still maintain their support for him.  One of the most telling quotes from a government worker who was laid off during the shutdown was, "I'm still for him, but he's hurting the wrong people" – like he was expected him to hurt "other" people, just not them.  Farmers losing money on soybean sales due to tariffs have expressed the same sentiment.
Robin Di Angelo, author of the New York Times bestseller, White Fragility, provides some useful insight.  She says, "In my experience, day in and day out, white people are absolutely not receptive to finding out their impact on other people."  She defines white fragility as "the inability of white people to tolerate racial stress."  Her prescription for a solution is right on.  She says, "Racism is a white problem.  It was constructed and created by white people and the ultimate responsibility lies with white people. For too long we've looked at it as if it were someone else's problem."
Racism is the sickness behind the sickness affecting white America.  Dr. Metzl's work shows that the increases in suicide, opioid addiction and the overall decrease in white life expectancy can, in large part, be traced directly to a desire to not see "other people" get ahead.  Robin Di Angelo got it right.  If we want to defeat racism, more white people have got to join the fight.  Thank goodness some, especially young people, are.
Staff Writer; Harry Sewell