Will PlayStation 5 Launch In 2019? It's Possible.
(ThyBlackMan.com) The PlayStation 5 is Sony's next-generation console and it is expected to arrive soon. Recently, Sony PlayStation Team emailed a survey asking users to share their opinion on console gaming. According to Sony, the survey was aimed to improve the customer experience and to help the company plan the future of PlayStation. The launch date for the PlayStation 5 is still unknown, but there have been updates about the console's development making some fans hope that there's a possibility of PS5's launch in 2019.
The latest update on the development of the PlayStation 5 came from Sony itself. A job listing from Sony suggests that the company is looking for a Sr. Network Operations Engineer to help the company build "the next generation PlayStation backbone." The most interesting part of the job description is Sony's focus on streaming services. In our PS5 wishlist, we predicted this happening. Many industry analysts have also said that the next generation of consoles will heavily focus on streaming services. Microsoft's Xbox Scarlett is no exception. You can read more about it here.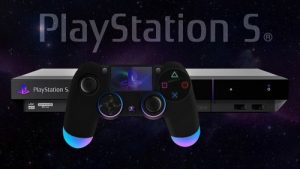 During the Gamesbeat conference last year, Andrew House, the former Chairman of Sony Interactive Entertainment, said streaming will be a big game changer. With streaming, industry experts also believe that Sony will also focus on pushing its VR efforts even further. Last year, a leaked report revealed that the PlayStation 5 will come equipped with an AMD's Navi architecture based GPU and it will sport a custom AMD Zen CPU. Recently, the report is now backed by another leak that appeared on Twitter.
The new report claims that  AMD is will release a Navi graphics based GPU coupled with 7nm Zen 2 CPU cores for the next generation consoles. At present, the PS4 runs at 2.13GHz AMD Jaguar APU and the Xbox One X runs 3.2GHz APU of  AMD. The new APU is reportedly called AMD Gonzalo and it features eight processor cores clocked at 1GHz to 3.2GHz. Interestingly, some game developers also believe that Sony's next-generation console will support neural network.
Virtual reality and artificial intelligence are big technologies in the video game world and now when Sony is all set to launch the PS4 successor, demand for these features is obvious. With the shelf life of around 5 years, leading video game consoles need to have these features. The market may not be ready for these changes, but big world games have already started feeling the need for AI support and more powerful hardware. At the end of the day, players want to see something different in open-world games and neural network can turn out to be the right solution.
Why is 2019 the right time for the PlayStation 5 launch?
Sony's success with PlayStation 4 sales is noteworthy. The company has sold 5.6 million PS4 units during the holiday season 2018. If we look at the bigger picture, the company has sold 91.6 million units worldwide so far. The sales figures are impressive but it is also worth pointing out that the sales are declining year over year. There's a downward trend in sales. In 2016, Sony sold 6.2 million units during the same period and in 2017, sales came down to 5.9 million.
Sony will continue to see this downward trend in PS4 sales in 2019 because we have come to a point where people who ever wanted to own Sony's PS4 console have already bought one. Those who are planning to upgrade will less likely upgrade to the PS4 Pro as Sony itself has confirmed that it is working on a  next-generation console.
Sony also skipped PlayStation Experience at the end of 2018 and also confirmed that it won't attend E3 2019. It's a bold decision by Sony as these events offer some of the industry's best marketing opportunities. Sony has so many exclusive games with a release date scheduled for 2019 and most importantly, people are waiting to hear more about the PlayStation 5 launch. An announcement in early 2019 and a surprise release of the console later this year could be great for Sony.
Staff Writer; Corey Shaw
Have any Tech Tips? News? Hit up our Tech Guru at; CoreyS@ThyBlackMan.com