Top 5 tips on moving to New Orleans.
(ThyBlackMan.com) The Big Easy. Nawlins. The Crescent City. All about Saints, Mardi Gras, second lines, and festivals. There are so many things that distinguish New Orleans from other cities and towns across the country, and even within the state of Louisiana. Yes, New Orleans is in the South, but people in my adopted state tend to do many, many things with a flare and a smile that's as unique as the culinary traditions.
5. Pace yourself. Sure, you may have come down for a weekend, gotten your share of beignets and giant sized beers, but living here full time provides access to indulgence around every corner. For my first 24 months, I spent more money than I care to share on indulging in things I would normally only get on special occasions in my household growing up in San Francisco (Gumbo for SuperBowl,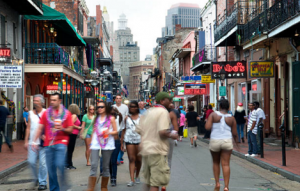 Étouffée for your birthday). Drive through daiquiri shops are littered all across the New Orleans metro area. Greasy, fried foods, and an abundance of bars that are open into the wee hours of the night (and morning) could be heavy in the heart, and cholesterol. Pace my friends, pace.
4. Slow down. Not to be confused with pace yourself. New Orleans is known by many nicknames and one of its more common ones is The Big Easy. That means locals take it nice and easy, except on the freeway (interstate, highway). As a transplant from a go-go-go, business-first environment, slowing down took some getting used to. Get ready for more holidays than normal, especially during Mardi Gras season, whenever a Fortune 500 companies tend to pull back from the gas pedal and join the revelry. One of the fastest lessons I learned was upon arriving to the city and hunting for apartments. Because I called one property owner the day before Decadence Fest, he said he would, "be hungover for a few days" and to "call me next week." It was Thursday when I called him. At first it bothered me, his lack of interest in doing business with me immediately, or at least sooner than three or four days. Today it's a story I share and laugh out loud about.
3. Expect the unexpected. Living in a hurricane prone city, you learn quickly that nothing is promised, so expect change. In other words, be flexible. At one point you could be on your way to work, and the next stuck in a never-ending pothole Uptown. Or anywhere in the city for that matter. A second line could start in the middle of a 5pm commute home and now your journey home just got extended by 25 minutes. Don't fret. Enjoy the free street concert and grab a daiquiri before you get to your front door.
2. Pack daily for crazy a$$ weather. Have you ever been to the Caribbean? Spent time in a place where the weather was "bipolar " as many New Orleanians describe theirs? If so, get very prepared and ready for the climate in the city to change within a minute. I've been caught umbrella-less two too many times and suffered torrential downpours all over my clothes on the way to a business meeting or event. In New a orleans I've heard many natives mention that a "day is not complete without a little rain in the city." Pack an umbrella and layer up on clothes when possible. Because we all know the heat in New Orleans is enough to make you wanna strip.
1. Freshen up on your pleasantries. Here in New Orleans, on a daily basis, I speak to at least six or seven strangers per day. Get used to smiling and engaging in basic morning, afternoon, and late day greetings when you move to New Orleans. People here, particularly in grocery stores love to talk to you, and even spread a little bit of their personal information to you or any other complete stranger.
It's the openness and freedom of the people of New Orleans that make is such a hot spot for transplants and tourists by the millions each and every year. Pack your suitcase, drink a lot of water, and stay awhile. The city of New Orleans has a tech industry that's brewing and bustling, loads of entrepreneurial ventures waiting to be uncapped, a good housing market, and overall a city that is warm, welcoming, wild, and so absolutely lovable.