Frank Robinson: Gone and should not be forgotten.
(ThyBlackMan.com) A true sports giant was lost on February 7, 2019 with the passing of Baseball Hall of Famer Frank Robinson. He was a man whose baseball legacy stretched several generations as he played during the 1950s through the 1970s, was a manager during the 1970s, 1980s, 1990s, and 2000s, and worked for the front office Major League Baseball in several different capacities during the 2000s and 2010s. A true baseball lifer, Frank Robinson garnered respect for his demeanor, leadership, and being one of the terrific offensive players of his era along with baseball luminaries like Hank Aaron and Willie Mays. He was a force on the baseball field who has significance in multiple ways in baseball.
There is only one person who has ever won the Most Valuable Player award in both the American League and National League and that person remains Frank Robinson who won the award in 1961 with the Cincinnati Reds and in 1966 with the Baltimore Orioles. It seems that his nickname should have been "History Maker" because he also accomplished the rare feat of hitting for the baseball "Triple Crown" by leading a league in batting categories of batting average, home runs, and runs batted in during that 1966 MVP season.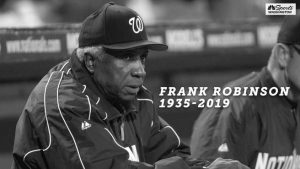 Today's baseball fans remember how much attention Detroit Tigers first baseman Miguel Cabrera received during his Triple Crown season a few seasons ago because of it is rarity and Robinson is part of the exclusive club of men to ever accomplish that.
It is impossible to separate the name "Jackie Robinson" from baseball because of Robinson breaking the color barrier as a player. Frank Robinson broke baseball's manager color barrier in 1975 as he became the first black manager in major league history for Cleveland. He multitasked as a player-manager so he was carrying the weight of showing that black men could manage the decision making processes involved with running a major league ball club while trying to perform at the plate as well.
Regarding his thoughts with being the first black manager, Frank Robinson once said, "I knew there was going to be an awful lot of pressure, a lot of expectation and a lot of unhappy people because when things went right, fine, but when things went wrong, it was going to be doubly bad because of me being the first black manager". He handled becoming a manager with some success throughout his managerial career as he was named the AL Manager of the Year with the Orioles in 1989.
Interestingly, Frank Robinson's athletic ability as a youth is highlighted by the fact that he was high school basketball teammates with the legendary Bill Russell, who would later become the first black head coach in the NBA history. His high school baseball teammates at McClymonds High School in Oakland, California included Curt Flood, who was also a historical figure in his own right. It is also important to note that Frank Robinson became an outspoken figure regarding racial issues facing black people like segregated housing and issues that black baseball players faced such as white pitchers for throwing at black hitters. When baseball historians mention the names of baseball greats like Aaron, Ruth, and Mays, it should not take too long at all before Frank Robinson's name should be mentioned. He is and was a vital figure in baseball history.
Staff Writer; Mark Hines