Why it is important for the LGBTQIA education for NBA players to continue.
(ThyBlackMan.com) "We should be careful about using those terms that might turn our friends off. The terms "faggot" and "punk" should be deleted from our vocabulary, and especially we should not attach names normally designed for homosexuals to men who are enemies of the people, such as [Richard] Nixon or [John] Mitchell. Homosexuals are not enemies of the people."
Those are the words from Black Panther Party co-founder Huey P. Newton during his speech on on August 15, 1970, on gay and women's rights and liberation. His speech, in which he also discusses the importance of straight men being allies against the oppression of homosexual people, is very relevant today. Professional sports is very different from mainstream society in many ways including the high salaries and first class travel of the athletes but professional sports also mirror society in many ways in terms of how many athletes carry negative ideas, slang, and terminology about minority groups with them into their professional careers.
NBA player Andrew Wiggins of the Minnesota Timberwolves had to backtrack his words after he possibly made a postgame comment that should be considered as disrespectful of gay people. "I don't know what's wrong with him. Uh, he was just gay. He was acting crazy for no reason." Wiggins said to reporters about an opposing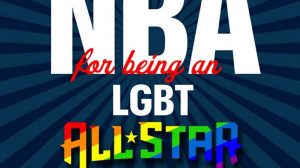 NBA player. Later while on Twitter, he also found it important to try to clear up what he said by tweeting, " I don't know what's wrong with him he was just getting… acting crazy for no reason". Whether he said, "gay" or "getting", it wasn't the first time this season an NBA player made comments that could be considered anti-gay. Denver Nuggets center Nikola Jokic received a $25,000 fine for postgame comments earlier this NBA season after saying, "No homo, but he's longer than you expect", about an opposing NBA player.
The slang usage of "no homo" and "that's gay" are understandably not viewed as homophobic by straight people, who have a harder time relating to the daily issues that the LGBTQIA community faces. Both phrases have been used as tools to show a lack of masculinity and as a quick condemnation of homosexuality from people who want to show no hint of being gay. It is important to note that both Andrew Wiggins and Nikola Jokic were both born and raised outside the United States so anti-LGBT slang isn't just prevalent in America.
The NBA as a league holds itself as the most inclusive of the professional men's sports leagues in America. NBA commissioner Adam Silver is in charge of a league has many players and even coaches who are not nervous about vocalizing social and political opinions. The biggest names in the NBA have broached topics of police brutality, racism, and gender equality in the past as well.
It was also not surprising that the first openly gay athlete to play in any of four major North American pro sports leagues of the NBA, NFL, NHL, and Major League Baseball was the NBA's Jason Collins back in 2014 because the NBA locker room was deemed the most likely to accept a gay teammate. However, there should be zero tolerance for anti-LGBT slang or comments by NBA players.
When college players enter the NBA, they attend an NBA Rookie Transition Program to assist with some of the professional and financial challenges that come with becoming a professional athlete in the NBA. That program also includes keeping anti-LGBTQ language out of locker rooms so athletes do not make the statements that have already been made this season. It may be a good idea for the NBA to continue to educate its players during their careers about LGBTQIA language.
Staff Writer; Mark Hines