5 Hair Care Tips for Black Men.
(ThyBlackMan.com) Commercial hair care products can be expensive, especially specialty products like those for African-Americans.
Fortunately, many natural ingredients can replace commercial products to take care of your hair. Here are some tips and ingredients you can use to look good and save money.
Comb and Brush Dry
When styling your hair after washing it, wait until it is dry to brush or comb it. Using a comb or brush on wet hair can cause breakage and damage to it. Also, if you need to detangle your hair, don't use a brush or comb as it will put too much stress on the hair and damage it.
For short hair, it's okay to use a standard comb to style it. However, if you have longer hair, use a wide tooth or afro comb to style it. In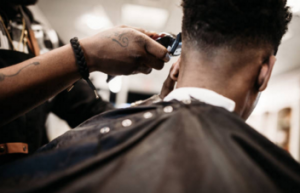 either case, limit your use of brushes to avoid damage to the hair. Soft brushes can control and flatten hair; harder brushes can define the shape of it.
Avoid Shampoo Ingredients
Try to avoid washing it too often as it can dry it and your scalp out. Also, read the labels on the products that you buy. Shampoos specifically for black hair often use ingredients that can cause it to dry out and damage it.
Read the labels of the shampoos and conditioners you buy and avoid any product with isopropyl alcohol, formaldehyde, sulfates, or propylene glycol. Along with drying your hair, they can irritate your scalp. Instead, look for natural creams or oil-based products for hair.
Apply Jojoba Oil
If you're looking for a lightweight oil, consider using jojoba oil for hair. Its composition is the closest that you will find to your scalp's and body's natural oils. Although you can use it straight from the bottle, it doesn't penetrate hair as well as other oils.
Instead, mix the jojoba oil with conditioners or hair moisturizers to help it penetrate your hair better. If your scalp is dry, this oil will also help moisturize your skin. Use it anywhere on the body where your skin is dry for it to become smooth and soft.
Choose the Right Product
If you need a styling product, be sure to read the labels to make sure they don't contain certain ingredients. You shouldn't use anything that is petroleum-based, or that contains alcohol mineral oil. Anything with alcohol in it can cause it to dry out.
Also, waxes, gels, and some pomades can cake or flake in most men's hair. Consider using a dry styling oil or hairspray that is alcohol-free with which to style your hair. Some companies make alcohol-free botanical hairsprays for this purpose.
Go Low-Maintenance
Choose a hairstyle that is low-maintenance based on your hair type. If you can't seem to find one you like in magazines or on other guys, ask a hairstylist or barber that you trust. Learning how to care for your hair can lead you to new ways of styling it.
You don't need to shave your head or wear it close to your scalp for it to look good. By learning the right ways to care for it, you can wear waves, short curls or longer styles that will look great on you and keep your hair healthy too.
Follow these five tips and others to moisten your hair and style it without drying it out or damaging it. If you are careful about how you treat your hair and what you put in it, then you can always get it to look its best.
Staff Writer; Gary James