Gift Ideas for Your Wife.
(ThyBlackMan.com) Whether you're buying for the holidays, birthdays or special occasions, gift ideas for your wife can be hard to come by. Although it's much easier than when you were dating, it's still difficult. Depending on how long you have been together, you have already gotten her everything that she's needed or wanted if she hasn't done so herself. Even if you haven't gotten her everything she needs or wants, just picking a gift can sometimes be a stressful time and a difficult task to accomplish.
When selecting a gift for your wife you first have to take into account what kind of woman she is. Does she enjoy makeup, shopping, watching TV, fashion, etc.? Most women enjoy multiple different things which will help with narrowing down your gift because if you consider more than one passion when selecting your gift there will be fewer items that fulfill them all.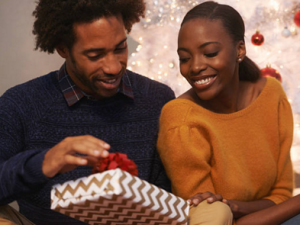 Here is a list of good gift ideas. You can find all of these gift ideas online by just searching for them on your search engine of choice.
1. 1,000 Thread Count Sheets.
This is a serious luxury item. The softness of a sheet is determined by the thread count. Thread counts are the number of horizontal and vertical threads in one square inch of sheet. Typical thread counts are from 70 to 340 or so. 1,000 thread counts are so soft she will appreciate the increase in quality of sleep that comes from her being able to fully relax. Expect to pay upwards of $200 for this gift.
2. Down Memory Foam Slippers
Yes, slippers, but not just any slippers. It is winter and she needs something comfortable and warm. The slippers mold to her feet and are made with duck down, which causes the slippers to be warm. They are super warm and unlike other slippers, can be worn both indoors and outdoors. Expect to pay $45 or so with online retailers.
3. Eyessense
The Eyessense is a device that is worn over the eyes like ski goggles. The device then applies heat, pulses, and produces air pressure to the area around the eyes. These three actions work together to promote blood circulation and relieves stress around the eye area. The business of daily life can sometimes cause a bad mood, so an massage for her eyes, where stress can build up, will help elevate her mood. Increased blood circulation around the eye also helps with headaches. Expect to pay in the range of $50 for this gift.
4. Nomad Writing Journals
If she loves the outdoors or traveling, Nomad Writing Journals make great gifts. These journals are tailored to activities such as travel, fly fishing, bird watching, backpacking, camping, rock climbing, etc.. They come with or without a case and provide writing space as well as cues for writing down important information. A great keepsake for her to preserve travel and outdoor experiences. They will also serve as a sounding more and a way to clear her head. The journals cost as low as $9 without a waterproof case and $25 with a case.
5. Quality Head Scarf / Bonnet
Finding a quality head covering for when you sleep is difficult for women, especially when you consider the prices. During cold winter months, whether your wife is relaxed or natural, moisture is absolutely necessary and requires additional work to achieve. You can also use this opportunity to find her a style or pattern that you would enjoy seeing her in at night. She will forever be grateful because her current night time head covering is probably worn from use, doesn't exist, or isn't made of the right material. Expect to spend anywhere between $25-$45 for a quality night time head covering for your wife.
These gift ideas for your wife should provide a good starting place for buying your wife gifts. The best part about the gifts listed above is that they are thoughtful and have hopefully encouraged a more thoughtful approach to gifting for your wife. Just don't forget the jewelry.
Staff Writer; Sister Victoria X
One may also follow this sister over at; SVX.