Five Things Every Black Dad Should Know.
(ThyBlackMan.com) Every black dad on this planet is powerful beyond measure. In our struggle against the demonization of who we are and what we represent, here are five (among many) things every black dad should know.
It's Not How Much Time You Get It's What You Do with It That Really Matters
Kids spell love T.I.M.E. It is urgent that we as dads learn that great truth and do what is necessary to secure the necessary time with our offspring.  Don't be the dad who complains about lack of time yet fails to make the best of the time he has.  Make time and time will make you – make you better, make you stronger and make you wiser.
Let's make time – not excuses! And remember, every no-show, every missed phone call on a special day, is building a wall that will only grow higher and higher over time.
Dads, find time and stick to it!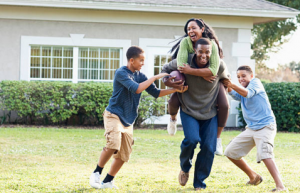 Every Day is a Good Day When You Know the Lord
Know God. Know peace. No God. No peace. Knowing God does wonders for your body, mind and spirit wellness. It's known that having a well-developed faith lowers depression and other mental challenges. Do dads have tough times? Of course! Just like anybody else, we struggle through days of adversity and challenge. The key is mindset. Get into the habit of seeing the possibilities of each day. Do not waste time focusing on the bad. Fix your attention on the potential of each struggle you face. Don't think about all those things you fear as a dad, just be glad and open for the experience.
Black Dads Matter
You matter. You are not who the world says you are. You are powerful, not pitiful. You are faithful, not fearful.  You are resourceful, not resentful. In spite of a persistently negative culture that has managed to convince millions that black dads don't matter, we do matter! We matter to ourselves. We matter to our families. Most of all, we matter to our children. We rise from our circumstances every day for the task at hand.
Hiding Your Weakness Does Not Make Your Children Strong
Our society punishes the weak and rewards the strong. Our society says 'don't show your vulnerabilities. Don't buy into this culture's false hype that to see you cry does a weak child make. You are only as strong as you accept your weaknesses. Your kids must not be shielded from the mistakes you make. Your children must see your setbacks and how you transformed them into comebacks. They must become intimately acquainted with those mistakes, so that they will grow and learn from them. Kids will make mistakes on their own as they mature. But what value could they bring to owning their mistakes when they see how you have bounced back from your own?
Remember the Three P's
Patient. Persistent. Positive. These three words can make or break you – to the degree you fail to cultivate them into your perspective. Patience is the ultimate virtue. We can't bum rush our development or that of our children. Plant the seeds and remain persistent in your daily care.  Think success, talk success, be success. Above all, remain positive. Stay focused on what's possible. Yes, you will get down on yourself. But that's the time to reverse your wrong-thinking and begin to extract from yourself the greatness that is in you.
Black dads are powerful!
Staff Writer; W. Eric Croomes
This talented brother is a holistic lifestyle exercise expert and founder and executive coach of Infinite Strategies LLC, a multi-level coaching firm that develops and executes strategies for fitness training, youth achievement and lifestyle management. Eric is an author, fitness professional, holistic life coach and motivational speaker.
In October 2015, Eric released Life's A Gym: Seven Fitness Principles to Get the Best of Both, which shows readers how to use exercise to attract a feeling of wellness, success and freedom (Infinite Strategies Coaching LLC, 2015) – http://www.infinitestrategiescoaching.com.