3 Hacks to Stimulate Faster Hair Growth.
(ThyBlackMan.com) Want to stimulate your hair growth? Whether you just had a really awful haircut or you're suffering from thinning hair, you can still get those luscious locks you have always longed for! For so long, it has been thought that the volume and length of your hair are controlled by your genetics. But this is not entirely true! Many environmental factors can get in the way. Even your shampoo may be the reason why your hair is not growing the way you want it to. So here are 3 hacks that can change that for good and make your hair grow much faster.
Hack #1: Fuel Up on Nutrients
For many people healthy hair is a sign of overall good health. Like any other thing that grows, hair needs to be taken good care of. And what other way to pamper your hair than to nourish it properly. In order for your hair to be healthy and growing, it needs a variety of nutrients and hair vitamins. As a matter of fact, hair loss is greatly linked to nutritional deficiencies. Optimal nutrient intake is key for stimulating faster hair growth. Your hair needs vitamin A to stay moisturized and grow. It is the primary vitamin that is responsible for the growth of all cells, and as hair is fastest growing tissue in the human body, Vitamin A is your hair's favorite nutrient. Another alternative hair loss treatment are B-vitamins that aid hair growth, vitamin C that stimulates collagen and prevent hair from aging, and vitamin D that prevents alopecia.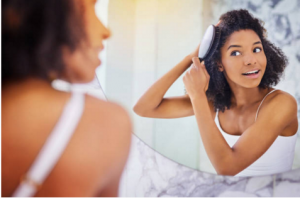 Hack #2: Try the Inversion Method
If you have not heard of this method before, it may sound a little bit weird at first. But you'd be surprised to know that it is the most effective way to stimulate hair growth. It is said that your hair can grow up to one inch a week with the inversion method! In order for the inversion method to work its magic on you, you need to take it step by step. First, get your hair trimmed and remove split ends to be able to measure and compare it to the end result. Then, hang your head between your legs in an inverted pose while sitting (which is commonly used as a yoga practice). With your fingertips, massage your scalp for about 5-10 minutes. You can even do this while putting a hair mask or an intensive moisturizing treatment like coconut oil or argan oil and use a wire scalp massager instead of your hands. Repeat this for seven consecutive days to get the best results.
Hack #3: Have a Daily Hair Care Routine!
As previously mentioned above, your hair needs pampering. Abundant amount of care and love. This comes with your daily routine; how you treat it on a daily basis and how you avoid bad habits that will harm it. Certain habits that might be very insignificant to you are actually damaging your hair dramatically! From rinsing your hair with hot water, regularly putting it in a bun or a ponytail, to blow drying and flat ironing, bleaching and dying, and skipping conditioner, these are the habits you should avoid altogether. On the other hand, regularly getting a trim, switching your style often and setting your hair loose most of the time is just the best you can do to your hair every day!
Care for Your Hair!
Treat your hair just as any living organism that needs food to grow and nourish. It's all about how healthy you make your lifestyle and how to be able to maintain that healthy lifestyle. With these hacks, you should be able to regain your hair's health and see the results in a matter of few weeks. Witness your hair glow and grow to be more beautiful, stronger, and softer than ever before. And after all, that's what we all ladies want, right?
Staff Writer; Carla Jacobs