Brother Speak Up.
(ThyBlackMan.com) There are some serious double standard issues between men and women in part because black men don't speak on certain topics. They aren't speaking up about the domestic violence they suffer at the hands of woman. They don't drag the dead beat mother of their children the way women have something to say about the father of their kids. We don't' hear about the rape of men, and boys, at the hands of women on the same level as women making rape seem like a woman's issue. When women began to speak on "toxic masculinity" there doesn't seem to be enough men to question that of "toxic femininity". In order to gain equality their must be fairness from both men and women.  If men are to truly get in touch with their feelings, they must begin to speak on the topics that cause them trauma and pain.
Women can not continue to make certain topics female only when they are human issues that effect everyone. If its hard to grasp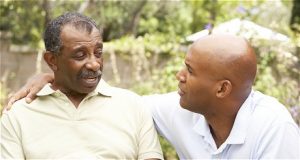 understand that these men are still some woman's son. It shouldn't take that to matter, but these days it seems that if a woman is not directly connected the pain doesn't matter much. It is not socially correct for a man to talk about rape nor domestic violence, so we can't say that women are more abused than men when men are silent.
Brothers you must find the courage to come forward and begin to speak your truth. In this space we can heal each other as a people. It is important to understand that men are not the only predators; this fact can not be fully accepted without the testimonies of men. It is important that we protect our children, not just our daughters, from all predators which includes women.
Mothers are powerful and yes, they give life. Yet, without the father there is no life to bare inside of us. We need to hear the voices of black men about the plight of fatherhood, and single fatherhood without discounting is as women have been doing this for years. Some men can say yes, I understand…and so have many men. Just as all black men didn't abandon their families all black women didn't keep that family together. There are men that refuse to put a woman on child support and they say nothing. They have to answer the questions of "why didn't my mother love me" just as some women face the questioning with fathers. Brothers can not continue to work in silence while bearing the rebuke of women when they know there is another side to this parenting picture.
Advocating for black men to speak up is not a slight towards black women. It is about coming to a place of true equality, fairness and healing. No one deserves to be a victim, and all parents deserve respect. No one is perfect in the situation. Society paints black men and the ultimate predator, and they need to raise their voice because that is not the truth. Women know covering shame doesn't heal, and men need to realize this truth. In doing this we can, as a people, instruct our sons and daughters in a manner that gears more toward acknowledging the humanity in each other.
In this truth speaking it may also show black women that we are not the only ones that sacrifice and love our kids. Fathers sacrifice and love as well. The balance in speaking truth would help both black men and women see themselves and areas that need work more clearly. Brothers you have to add your truth to this narrative for our healing as a people to come full circle.
Staff Writer; Chelle' St James
May also connect with this sister via Twitter; ChelleStJames.