5 Tips For Keeping Beef Jerky Fresh With Proper Packaging.
(ThyBlackMan.com) Beef jerky is one of the food products that require being stored properly under cool and dry conditions. While it's improper to expose your jerky to excess moisture, it's also considered bad to restrict the product to an environment that is too warm.
If you're storing your beef jerky properly by adhering to certain storage precautions, you're very likely to prolong the freshness of the product. In order to keep jerky fresh for a considerably long period, one important thing is to package it properly while another is to adopt effective storage techniques.
Finally, here are 5 essential tips for packaging your beef jerky properly and improving its storage life.
Keep Your Beef Jerky Out of Moisture
All sources of moisture –including fat and water –should be kept out of your beef jerky while ensuring the meat is still packaged properly. By means of proper packaging, the container of your beef jerky should be free from condensed water as this can stimulate the growth of mold in the beef jerky.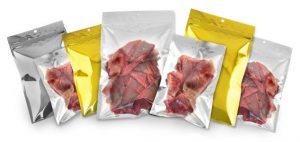 Oil or moisture can appear on your beef jerky typically in form of a shiny or wet surface. If this occurs, try drying the beef jerky with a paper towel. Also, you can cut the paper towel into layers and place in the container of your beef jerky.
Do well to keep each roll of jerky between the layers of paper towel. This way, any moisture on the beef jerky or in the container will be simply absorbed by the layers of paper towel. Importantly, replace the layers of paper towel with new ones once they've absorbed considerable moisture.
Keep Your Beef Jerky at a Moderate Temperature
When you're done cooking your beef jerky, endeavor to cool it before storing in a container. This is a safe way to avoid keeping the jerky in an extremely warm condition that might result in molding. Perhaps molding results from the sweat your beef jerky is likely to sustain when kept in an overly warm package.
Also, avoiding using pouches that are overly sensitive to UV rays has they can hasten food spoilage by tampering with core temperature.
Store Your Jerky Varieties In Separate Packages
This is, of course, one of the best ways to keep the flavor of your beef jerky intact. Needless to say, there are several varieties of beef jerky and provided you can store each variety in a separate container, it'll be very easy to avoid having a mishmash of flavors which could mar the freshness of your beef jerky.
Find Out the Shelf Life of Your Beef Jerky
Knowing the shelf life of your stored beef jerky is a great way to determine whether your storage techniques –coupled with the packaging option –have been yielding results or not.
After placing your beef jerky in a suitable bag, ensure you note the date that marks the beginning of the storage life by writing it on the container.
This way, you can determine how long your beef jerky has lasted beginning from the period of storage. Notably, the storage area you choose for your beef jerky is likely another determinant of the period for which the product will remain fresh.
Advisably, store your beef jerky in a flexible food package, free from moisture. There are many food packaging companies that sell quality bags for packaging beef jerky. After keeping the beef jerky in a plastic wrap or other airtight containers, you can place the container on a countertop, a shelf or any other suitable place but the storage period shouldn't be longer than one month.
Quite interestingly, you can further prolong the storage life of your homemade jerky for as long as one year by storing the product in a freezer.
Keep Your Beef Jerky in an Airtight Package
Keeping your beef jerky in a plastic wrap like beef jerky pouches, sealable bag or other usable airtight container is a great way to prolong its freshness. More advisable, you can store your beef jerky in a jar or flexible package so that you may have easy access to the beef jerky.
Staff Writer; Ron Jones