Soul Food.
(ThyBlackMan.com) What is soul food to you? In your mind, is soul food synonymous with black people? Mouth-watering Southern cuisine? Fried, smothered, delicious, nutritious? Candied yams and ham hocks. Sweet potato pie's and smothered pork chops. What about our greens? We have to have our greens! As an on-again, off-again holistic food pundit (at least in my immediate circle, and work and social environment) my eyes widened and my mouth anticipated a sugary rush just by reading my own words here.
Growing up in California with a family rooted in Southern traditions, soul food was a mainstay at least 2 to 3 times per week growing up in my household. As many rebellious teenagers can and will eventually attest to, I at 16, was determined to challenge any and everything that was considered normal or regular or even mandatory in school and in life. One of the major changes at 17 and 18, was the elimination of pork from my diet which eventually led to becoming a vegetarian, and a short stop on the vegan train.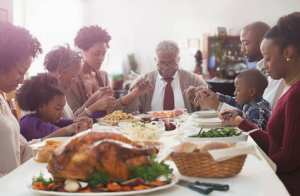 Nearly 20 years has passed since my rebellious teenage journey with soul food versus good food versus Healthy or holistic food. It continues on a minute by minute basis. One day I'm wondering why any of us eat meat at all, and the next I am eating up to 3 meals that feature a majority of animal flesh "products." I'm asking again, (for a friend) what is SOUL FOOD? And why are so many people in love with it?
But more importantly then this brief expose on stereotypical or "traditional" southern cuisine, we should be asking ourselves this: Does the food we consume on a constant basis supply us with the nutrition, the energy, and the nourishment we need to experience true longevity on this earth?
Examining and studying our relationship with food can be hard. It can also be compelling and even life-changing. Last year, in a 40-day span, I consumed no solid food and lost 28 pounds. More importantly, I FELT 10 years younger, and probably looked it. Throughout my own studies, both academically and in life practice, I have found that when eating a plant-based, whole food, nutrient-dense diet, I am more energetic, more productive, less anxious, and generally easier to be around.
A holistic chef that I have studied for many years and has serviced the likes of Lenny Kravitz and Venus and Serena Williams, once talked about the way that certain foods affect your outgoing and incoming emotions. As I delved further with my own personal practice and the practices of those around me, I began to notice that when eating soul food, and extra sugary items, and cooked meat, my attitude would be affected severely in a negative manner. I had mood swings. Headaches. A bad attitude was the worst of it, I think.
If you have read up until this point, I am now going to challenge you to try this out for yourselves. For three days, try eliminating any animal flesh from your diet. Eliminate sugary drinks from your consumption. Hold off on the soul food and the late night ice cream cones. Load yourself up with nutritious and delicious healthy items. Take a brief journal of the changes you notice in your body and your attitude and perhaps, your behaviors and emotions. I believe for many black folk and others alike, soul food is an emotional thing and is often attached to family, holidays, tradition, and the nostalgia that comes with all of the above. Soul food, and the accoutrements, often mean family gatherings, and good times, with great music, unlimited laughter, and probably two or three slices of sweet potato pie (or pecan if that your deal).
But soul food alone should not take the fall for the overall lack of balance in the eating and consumption patterns of black folk throughout the country. The statistics regarding deep-fried, sugary-laced, meaty foods, are out there, and those types of foods are very prevalent in the western diet, too. It's everywhere. Drive through any predominately black or Latin, or people of color community in this country, you will notice the multitudes of fast food restaurants that target our communities with foods that do tremendous damage, and furthers the rates of things like obesity, prostate cancer, and diabetes. Look out.
Whatever way you slice your apple (pie), please remember: You are what you eat.
Or as Dr. Amos once lectured, "What kind of food do you eat? You say soul food? Was that the food of the African people? Slave food. The food that we call down home are food that we learned to eat in the quarters. And yet we dare say that we have escaped slavery. "