Surface Pro 6 with i5 or i7 – Which Is Right for You?
(ThyBlackMan.com) The Surface Pro 6 lets you choose between the Intel i5 and i7 processors. With the 8th generation processors, the Pro 6 performs 67 percent faster than its predecessor, which is a significant performance boost. When it comes to buying a laptop, most people want a computer which is powerful enough to handle everyday tasks and can also perform well under stress. If you're in the market and trying to make a choice between i5 and i7 for the Surface Pro 6, this guide can help.
There's no Core M3 version of the Surface Pro 6 and if you see any retailer (yes there are many) who lists the product with Core M3 saying it's the 2018 Surface Pro 6 model, don't trust them. The reason is Intel has not refreshed the Core 3 for 8th generation and at least at the time of launch, there are only two processor options available and the Core M3 is none of them.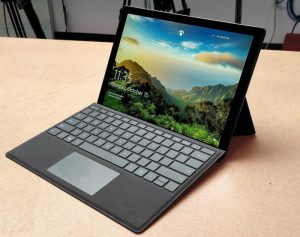 One of the major questions potential Surface Pro 6 buyers ask is- "Which one should I choose, i5 or i7?" The short answer is, go with the i5 if you are unsure and want a decent yet powerful tablet-laptop hybrid at a low price. Why we recommend choosing the i5 on Surface Pro 6 because there are some solid reasons.
With a Core i5, you can save a lot of money
The first thing you will notice with the i5 model is that it starts from $899. If you haven't tried configuring Surface Pro 6 on Microsoft store, here's what you need to know. At the price of $899, you get the gray color variant with 8GB of RAM, 128GB storage, and Intel Core i5 processor. But if you want the same variant with a Core i7 processor, you will get the same amount of RAM with 256GB storage at $1,499. This is a huge difference and if you really don't need that much processing power, with the Core i5, you can save six hundred dollars.
With that said, Microsoft has confirmed that the Surface Pro 6 is 67 percent faster than the previous model. This is really huge because, for the majority of users, this much processing power is enough. A large number of people still use Intel i3 processor on their systems and even the previous generation i5 processors are powerful enough for basic and moderate uses.
The Core i5 is suitable for the professional crowd
Intel's 8th generation Core i7 processor would be a perfect choice if you are a programmer who writes and compiles lots of codes. Buying Surface Pro 6 with i7 processor would be great if your work requires editing of images and videos on the go. If you are a professional gamer or play graphics-heavy games that the 8th generation i5 processor can't handle, the i7 should be your obvious choice. With that said, the i5 model doesn't have a fan, but the i7 requires a fan because it will produce more heat. With a fan on board, you can expect that the i7 will be a noisier option which is actually good if your work requires that much processing power.
Microsoft claims that the Surface Pro 6 will offer up to 13.5 hours battery life after a full charge. Since the Core i5 configuration won't need a fan and will be more power efficient, you can expect better battery life on the machine than the one equipped with the Core i7. In the performance tests, the benchmark scores have made it very clear that you can expect a lot better performance from Surface Pro 6. In the single-core performance score, the Core i5 has scored 4,207 and in multi-core tests, we got a score of 13,851 which is impressive.
Conclusion
The Surface Pro 6 is powerful enough to get the job done and both the processors perform a lot better than the previous generation processors. For basic to advanced level tasks, both the configurations are pretty good. At the end of the day, you will need to check your budget and performance needs.
Staff Writer; Corey Shaw
Have any Tech Tips? News? Hit up our Tech Guru at; CoreyS@ThyBlackMan.com