University of Georgia makes the right decision in booting Adam Sasser for slurs.
(ThyBlackMan.com) For college football programs, few things are as magnetic as the big-time quarterback recruit. Programs like USC, Michigan, Florida, and Clemson have become known for attracting some of the most talented high school quarterbacks in the nation to their campuses to make their college dreams come true. The University of Georgia also has a quality recent history of big-time high school quarterback recruits like Matthew Stafford, Jacob Eason, and now Justin Fields, who is one of the highest rated high school quarterbacks ever to become a Georgia Bulldog. But even talented young quarterbacks like Fields can find themselves subject to racial slurs and ignorance as was the case a few weeks ago.
According to a Facebook post made by another University of Georgia student, University of Georgia baseball player Adam Sasser was alleged to have shouted racist remarks at Georgia quarterback Justin Fields, who is black, during a September 29th University of Georgia football game. While in the stands, Sasser, who is white, allegedly yelled out, "put that n****r in the game" multiple times despite being asked to stop by multiple people in the crowd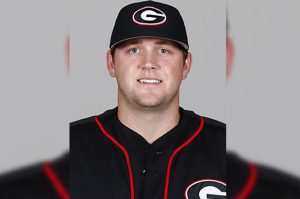 around Sasser. Apparently, his friends around him didn't do anything but laugh as Sasser repeated the word despite being asked multiple times to stop. The Facebook post was quickly picked up by local media, the Georgia athletic director Greg McGarity was made aware, and the school's Equal Opportunity Office launched an investigation into the issue and it ended with Sasser's dismissal from the baseball team.
The same day that Adam Sasser was kicked off the baseball team he made an "apology" via social media. He wrote, "First and foremost, I want to apologize for my actions at the football game on Saturday. I totally understand why my actions were offensive and I am deeply sorry for any pain or distress this has caused anyone. Secondly, I would like to apologize to the University of Georgia, my teammates and my coaches for the past 3 years and say that I am extremely sorry I have put you all in this position and wish nothing but the best for everyone." However, this sentiment did not save his collegiate baseball at Georgia.
This bad incident is noteworthy for many reasons. Sasser is one of the best baseball players on the Georgia Bulldogs baseball team and while Georgia Bulldogs football is the most important sport on campus, baseball is still important. The Georgia athletic department is also supporting a black "student-athlete" in Georgia football player Justin Fields by making a quick, strong decision in dismissing Sasser. This decision also sets the tone for crowd behavior at the University of Georgia as it relates to racial slurs and unacceptable language towards the athletes and athletes of color on the field or court. It is fair to say that this isn't the first time that black football players have been called derogatory slurs or comments on the field at Georgia.
It is entirely possible that due to the immense talent of a young athlete like Justin Fields is why Georgia so quickly got rid of Sasser. Fields is viewed as a freshman who could potentially be the face of the program as a Deshaun Watson-type talent while Sasser was a junior baseball player with nowhere near the upside in his respective sport. Regardless, this situation shows that black quarterbacks still face things that their white counterparts don't and that racism in the stands will not always be tolerated.
Staff Writer; Mark Hines