NBA 2K19 Review Roundup.
(ThyBlackMan.com) The August preview of NBA 2K19 gave us a realistic idea of how much we can expect from the game. Now when NBA 2K19 is out for traditional consoles and PC, after completing many days of gameplay, it's time to see how the game fairs in its current state. In this NBA 2K19 review, we will look at the things that went beyond our expectations and the factors that didn't do well.
NBA 2K19 brings many new improvements in the game's major elements like MyCareer, Neighborhood, story, and progression system. We also saw a realistic approach towards gameplay adjustments that make the overall experience more realistic and believable. Overall, NBA 2K19 is still the king in basketball simulation games category and Visual Concepts certainly deserves plenty of love for this year's release.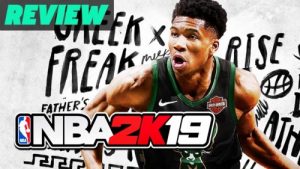 While reviewing NBA 2K19, the most important thing we felt about the game is that anyone who has just started playing NBA 2K games needs to work on his skills more than ever. Previous entries in this video game franchise were not so hard in terms of skills. If you have got skills, NBA 2K19 is the game for you, but for starters, there will be a learning curve of some kind. The game feels very strict when it comes to using different movements and that's the beauty hardcore gamers will enjoy in this game.
One of the major NBA 2K19 features is the Takeover meter. If you're a basketball fan and spend most of your time in MyCareer mode, you may have noticed that all your stats are located in Takeover meter. In NBA 2K19, you fill up the meter through hustle. Scoring, going defensive and making an assist there's so much to do. The meter goes down if you play bad and you do this by poor defense, taking bad shots, and almost everything that has a negative impact on your team. When the meter is full, you get a little boost and it reflects in your overall performance.
Takeover meter is not a big game changer but with improvements in defense and offense systems, it makes the gameplay more natural. If you have played previous games from the franchise, you have probably noticed that this time, it's hard to beat the AI defense system. As long as you don't learn how to keep your moves flowing in the right direction, you will struggle. This system forces players to keep their on-court actions positive.
As far as AI assistance is concerned, things have changed well, but you still need to make sure that your shots are timed well. Each shot needs to be well anticipated because if you can't judge the ball's position, the offense will get the benefit from your poor judgment. Other improvements including the visuals and animations make the gameplay balanced. One thing you have probably observed that the game developer has improved situation-based reactions. Instead of putting pre-designed animations for certain on-court moments, these elements are now supported by improved physics.
The worst thing about previous NBA 2K games was the MyCareer story. Despite being one of the most important parts of the basketball simulation, MyCareer was a disappointment. Now we have a great new story in NBA 2K19 and it feels more realistic and meaningful this time. The improvements in MyCareer are impressive and it would have been great if they paid this much attention to the franchise mode.
Game developer Visual Concepts has added customization options to the shot meter. Players can now change the color and placement of the shot meter. Players can also switch between the old and new shot meter styles and can use both at the same time. It increases the accuracy to some extent but if you're not careful, there are chances that you'll still miss some shots.
If you keep microtransactions and other cash grab techniques aside, everything else in NBA 2K19 is worth spending time in. The game is packed with new and improved features that make it the best basketball sim in 2018. NBA 2K19 reviews are generally positive and most of the publications have praised the game for improvements and its new features. Although players on PC are not very happy with the game as seen in the reviews left by players on Steam.
Staff Writer; Corey Shaw
Have any Tech Tips? News? Hit up our Tech Guru at; CoreyS@ThyBlackMan.com