4 Ways to Get Through to Your Neighbor.
(ThyBlackMan.com) Living in isolation is charming yet hard to achieve. While you can escape to seclusion for holidays, on a regular basis, you need to deal with people around you. Your neighbors are the geographically closest people who you have to encounter on a regular basis. While it is not necessary to become best buddies with your neighbor, you can, however, find common ground and have a rudimentary relationship where you can communicate with ease. How can you begin to build a relationship with your neighbors? Here're a few tips that might help you out.
Start Small
You do not need to go ring your neighbors' doorbells the moment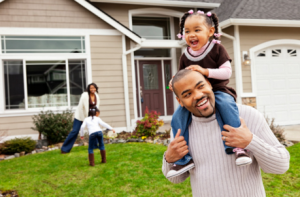 you move into your new house. Start small when it comes to approaching your neighbors. Unless your neighbors come to you to introduce themselves, you can choose to acknowledge them by smiling at them politely. Once you feel comfortable enough to approach your neighbor, you can go and introduce yourself. How you introduce yourself to your neighbors can decide how your relationship with them will be.
Do Your Research to Find Conversation Starters
With your neighbor's name and address, you can do a background check using software like Veromi. Your safety might depend on knowing your neighbor. If your neighbor has a criminal record, a simple search using Veromi can get you the information you need. You can even use Veromi to find your neighbors' social media profiles. By checking out the social media page of your neighbors, you can get to know them and can find common grounds for a conversation starter.
Lend a Hand
Even if you have not started off on the right note with your neighbor, you can always try to mend the relationship. Lending a hand is always a welcome gesture. It can be something as small as helping your neighbor carry their shopping bags from their car. Giving a hand will help you make a good impression on your neighbor only if you do not ask for any favors in return immediately. Help your neighbor without expecting anything back from them. Your neighbor will in turn voluntarily help you out on days when you may need a helping hand.
Share Holiday Joy
The holiday spirit is sure to make even the grumpiest neighbor approachable. Take advantage of the holidays to get to know your neighbors. Invite them over for holiday dinners. Having a big New Year Party? Invite your neighbors over. With your neighbors over at your place, you can at least rest assured that there won't be any noise complaints if things get loud. The feeling of inclusion is an endearing step towards developing a positive relationship. Even if you do not want to invite your neighbors over to your parties you can still share the holiday joy by personally delivering a small holiday gift basket.
Building a cordial relationship is important for building a great neighbourhood.
Staff Writer; Larry Jacobs