6 Rules for Matching Your Laptop's Performance with Your Work Needs.
(ThyBlackMan.com) Buying a laptop for work? Read these six rules to find the best laptop that matches your needs and budget. It's possible to create a balance between your laptop's performance and your work, and here's how you can do it.
Portability considerations
If you're buying a laptop for work, make sure choosing the right size. Not only the display size, but you should also pay attention to the laptop's dimensions and its weight. People often overlook these aspects and regret later. They either end up buying a bulky laptop that's not at all convenient to carry everywhere or they pick the one with a fragile body. Ultra-thin laptops look cool but they require extra care and if you travel a lot, choosing a laptop with the sturdy and strong body will help you a lot.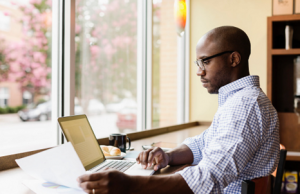 As far as display size is concerned, laptops with a 15.6-inch display are the best in most cases. They are neither too small nor they look too big on your desk. Apart from the work, a laptop with a 15.6-inch screen is good for watching movies and play games and 15-inch laptops are easy to carry in laptop sleeves and backpacks.
Check display quality
You will be spending a lot of time looking at your laptop's screen. Make sure it's big enough so you won't be struggling with tiny fonts. It should also have a high resolution. Most of the low to mid-range laptops offer 1366 x 768 resolution. Manufacturers often market these products with 720p and 1080p tags but most of the laptops with this resolution look ugly and are not very good for the viewing experience. Spending more money on a higher resolution, for example, 1920 x 1080 is worth it because it will offer better quality visuals with higher PPI. Here PPI stands for pixels per inch. The higher the PPI, the better the visuals you can expect.
Some people prefer a touchscreen laptop only because it's an added feature they can afford. If your work requires you to own a touchscreen laptop then you must go for it, but if you don't need one, it's better to save some money on this part and invest it into buying a laptop with higher display resolution.
Check size and features of Keyboard and trackpad
The size of a laptop determines how much space you'll be getting for the keyboard and trackpad placement. If you're choosing anything below 14-inch, these two important input devices will be cramped. Before buying a laptop, make sure that the keyboard and trackpad placement is proper and there's enough space dedicated for the resting palm.
At first, these features don't look very important, but the size of the keyboard determines how you sit and in what position you stay for a long time at work. If there's not enough space between the keyboard buttons, you will feel pain in shoulders after using the laptop for a long time. Those with broad shoulders should not choose a laptop below 15-inch.
There are certain features people often don't pay attention to and they struggle later. For example, a backlit keyboard can help you type easily in the dark. So if you're sitting outside in the dark and want to use your laptop, without a backlit keyboard it will be a pain to type even two lines. Same goes for the trackpad. On many laptops, the trackpad can only be used for moving the cursor. Buy a laptop that allows scrolling and zooming through the trackpad. These features will make your experience a lot better.
Check the hardware components
Don't become obsessed with one single hardware component because a laptop works better if all of its components and software work in harmony. Running the Intel i7 processor on a machine that has 2GB or 4GB of RAM isn't a smart choice. The first thing you should consider in the CPU part is the processor.
Many companies make laptop processors. Intel, AMD and many more have come with new offerings. Intel processors have been a trusted and one of the most reliable processors. They come in three popular variants i3, i5, and i7. Each of these processors has their own variants depending on the generations, so make sure choosing the one that you are really in need of.
For example, the Intel i3 processor can be good for starters, but if your work requires more performance power, choose i5 or i7. AMD also has some good entry-level processors and high-performing ones. Spend some time reading about them and compare different processors. If you find it too complex, there are many websites where you can check benchmark test results of each processor model.
Next thing you must consider is the RAM, but don't think that higher numbers always result in better performance. You should consider at least 8GB of RAM for your new laptop but if you feel that's enough for you, there's no need to add more because most of the applications and games require not more than 8GB of RAM.
The third thing in the hardware components area is the video RAM. In some laptops, inbuilt chips are available, and in some, you will find dedicated hardware slot on the motherboard. If possible, choose a laptop that has at least 2GB of graphics memory. It will help you run graphics-heavy software and games easily.
Check storage capacity
From floppy disks to CDs, DVDs, pen drives and external hard disks, we have seen so many changes in the PC world. When it comes to choosing the storage option for your laptop, make sure it's not less than 500GB. You can always save the data in your external hard drives, but to install applications and to make them run smoothly, sufficient system storage is a must.
You may have heard about HDDs and SSDs. The fastest between the two is an SSD (Solid State Drive) and it is available in most PCs these days. If possible, invest in a good SSD with at least 1TB storage capacity. It will not only make your laptop perform faster, but it will also increase the data transfer speed.
Check ports and compatibility
Overlook ports and your laptop's compatibility with external hardware devices and you will regret after buying. If you need a laptop that comes with certain ports, for example, Thunderbolt 3, USB-C, USB A, HDMI, and SD card slots, choose a laptop that features the ports you need. It will not only make your work easier, you will also be able to save more time and you won't have to deal with a whole bunch of wires and other components.
There will be compromises because, at the end of the day, you will have to make a balance between your needs, budget and attractive offerings. When you buy a laptop for work, make sure that it matches your needs. You have to be very realistic about what you need because that way you can save a lot of money and time.
Staff Writer; Corey Shaw
Have any Tech Tips? News? Hit up our Tech Guru at; CoreyS@ThyBlackMan.com