Nintendo Wii U vs Nintendo Switch: Games, Performance, User Experience For You.
September 20, 2018 by Staff
Filed under Uncategorized
(ThyBlackMan.com) The question, who wins the Nintendo Wii U vs Nintendo Switch battle is on everyone's lips. Even the new console is just two months and a few days old, should you really upgrade to the new system and bury Nintendo Wii U? Check this comparison to find out what's different in terms of performance, user experience, specifications, and content.
Like the Nintendo Wii U and the GamePad, the Nintendo Switch also has a dedicated screen which is better, bigger and completely portable. Of course, the console upgrade by Nintendo brings next-level hardware to the GamePad. But this is not enough to make Nintendo Switch a perfect console. The company is still repeating some mistakes Nintendo made with Wii U. Not all the things are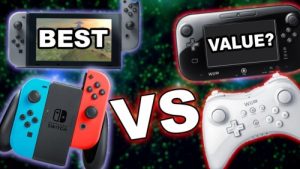 finalized and not everything Nintendo wants Switch players to own is ready. For example, the online services that enable the Switch owners to experience online multiplayer gaming. According to the company, the paid service will be available from fall this year and is still running in the trial mode. Additionally, Nintendo has introduced a dedicated smartphone app to let the players connect Switch to play online with friends.
So at this early stage, if you are expecting such services to be a part of your gaming experience, updates and improvements are yet to come. But with Wii U, you won't have to wait for improvements, since the console has been in the market for long.
Nintendo Wii U vs Nintendo Switch: Games
Don't expect Nintendo Switch to support Wii and Wii U peripherals. The device is not going to do that. Nintendo has introduced its own set of Switch peripherals which can be used with the games. For example the Joy-Con controllers. Both Wii and Wii U support the peripherals of their predecessors. So, those who own any of the previously launched consoles, bury those peripherals because Nintendo Switch doesn't give a damn about the money you invested on them.
The Nintendo Switch cannot play discs and it completely relies on game cards. If you expected backwards compatibility, Nintendo Switch may have already disappointed you, as it is an all-new-way to play games according to the company, and it will not support backwards compatibility
As far as the last gen games are concerned, the company is not very much interested in bringing them on the new system, as it is focusing more on reselling the content or bringing the content through digital means. So be ready to re-buy old games if you own any of the Nintendo consoles and are planning to move onto Switch.
One thing everyone should note that Nintendo Wii U is almost dead in terms of new content. So if you are really feeling that you'll be needing more fresh content to play in future, Switch is the only option left for you. There's no bright future left for Wii U, but the Switch is a growing community of gamers.
Nintendo Wii U vs Nintendo Switch: Performance
The Nintendo Wii U vs Nintendo Switch comparison becomes more intense when it comes to the hardware used in these consoles. Both the consoles have dual functionality, as they can be handled with a separate handheld mode and can be attached to the TV. Both the consoles have the ability to give 1080p display quality for games.
Undoubtedly, Switch is more powerful than its predecessor Wii U. The system runs on a heavily modified processor, Nvidia Tegra X1. The change is significant in delivering more power to CPU and GPU as well. There are many things Nintendo hasn't revealed about the console's specifications. The Nintendo Wii U, on the other hand, sports a 550MHz Radeon GPU and it runs on 1.24GHz tri-core IBM CPU. Since the company hasn't revealed much about the components and modifications it has made, it is really hard to declare the winner as the details about exact difference are scarce. But it is very clear that Nintendo Switch wins the performance war, even though the console runs on a mobile chipset.
The Switch runs on 4GB of RAM, while the Nintendo Wii U has 2GB RAM, which is a major leap forward with the new system. But in terms of storage capacity, Nintendo still offers 32GB internal memory, the same storage capacity as Wii U, allowing users to extend it with a MicroSD card.
Nintendo Wii U vs Nintendo Switch: User Experience
The basic options on both the consoles are similar, but you will see a clean UI on Switch. Both the consoles allow you to download games and the thumbnail based UI icon is also the same. The major setback for Switch is that it doesn't support online services at this moment. Nintendo Switch is focused more on gaming, so internet browsing, streaming services are not supported as of now.
With Nintendo Wii U, on the other hand, you can surf the web, as there's a built-in browser available. You can access Hulu Plus, Netflix and can also watch videos on YouTube.
What makes Nintendo Switch worth buying is the ability to play games without having to worry about the region locking. The company's president Tatsumi Kimishima announced that Switch won't be region locked. It means that the globally released content will be available on the console regardless of your location. So those who always struggle to access content from Japan or Europe regions don't have to worry anymore.
Nintendo Switch is priced US$299.99 and the Wii U is also available at the same price. The difference is that the company is selling the Deluxe set bundles of Wii U at this price and it comes with free games.
Staff Writer; Corey Shaw
Have any Tech Tips? News? Hit up our Tech Guru at; CoreyS@ThyBlackMan.com.