Black Women in Education.
(ThyBlackMan.com) African-American women hold a minority of positions in higher education in the US despite the fact that they are the most educated amongst other groups. Even so, some of the most critical positions and critically acclaimed names in different scientific fields in the history of the US education are held by African-American women. Due to the racial and class oppression throughout the years of delicate Black-history, these women were usually underexposed, undervalued and neglected as important contributors. In the light of social-justice movements and black-power awareness, let's take a look at some of the exceptional African-American women who have occupied positions of higher education and their impact on education for women of color.
Alice Augusta Ball
Alice Ball was the first woman and African-American to receive a master's degree from the University of Hawaii. She was also an African-American chemist who contributed to the discovery of the most effective leprosy treatment in the first half of the 20th century. Having received her degree at the University of Hawaii, Alice Ball also became the first female African-American professor at that university.
Ball's life story is mesmerizing and spectacularly inspiring. Coming from a middle-class background, Ball has set it as her goal to reach the heights of education that will not only set the ground for African-Americans willing to enter that circle, but also for all the women of any race who aspired for higher education. Ball's numerous,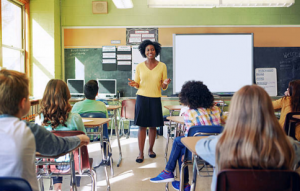 groundbreaking accomplishments, like being published in the prestigious Journal of the American Chemical Society or revolutionizing the leprosy treatment, have become not only an inspiration of African-Americans, but also women and any other oppressed group in the US at that time, and even to this day.
Alice Ball died at the age of 24, presumably from tuberculosis. Her legacy is still carried on, especially on the 21st-century black-awareness movements, since her work was not recognized until the early 2000s, nearly ninety years after. In 2007, Ball was honored by the University of Hawaii with a Medal of Distinction and marked as one of the most influential African-American women in the history of US education.
Carolyn Parker
Another exceptional African-American woman on this list is Carolyn Parker. Parker was a woman of various interests, numerous degrees, and accomplishments. She was also in the science fields, as Parker was a physicist who has worked on the Dayton Project, which was a part of the famous Manhattan Project, revolving around plutonium research and development.
Carolyn Parker has also earned two master's degrees; one in mathematics from the University of Michigan, and the other in physics from MIT. She also became an assistant professor in physics at Fisk University, and these accomplishments are just the tip of the iceberg of what Parker has managed to do in her life as an African-American woman. Her contribution to the US education, especially in science and physics is unprecedented. On her way to becoming the first African-American woman with a doctorate from MIT, Parker was stopped by leukemia, that would take her life at the age of 47. Nevertheless, Carolyn Parker was the first African-American woman with a postgraduate degree in physics. Parker was a hidden hero of the Manhattan Project and a pioneering African-American, female physicist. To this day, her legacy is being revived and kept safe from oblivion. Many see her as a true inspiration for black women and women of color in general, especially in regards to getting higher education and improving the opportunities for these groups in science and other fields of study.
Annie Easley
Annie Easley, an African-American computer and rocket scientist, as well as a mathematician is famous for her employment at both NASA and NACA. Easley was a pivotal member of NASA and a leader of the team that would later develop software for the Centaur rocket stage. Needless to say, Annie Easley was one of the first African-American women to work as a computer scientist for NASA.
Just like the other, aforementioned exceptional black-women, Easley also had a quite interesting background. When it comes to her career and education, one must bear in mind the timeframe in which she tried to obtain a degree in pharmacy. The Jim Crow laws were at their peak and have mostly disabled many African-Americans, especially women to reach their full potential, due to literacy test.
Nonetheless, after the Jim Crow laws were abolished, Easley has managed to earn a Bachelor in Science at the Cleveland State University. From then on, Easley was accepted in the specialization courses provided by NASA, and the rest is history. Her work and career at NASA and NACA have inspired a generation of women to pursue a career in space flight and computer and rocket science.
In other words…
These three women have definitely deserved to be included on the list of black women in education. However, there are hundreds of other women that have earned to be in the same spot due to their contribution to science, technology and other fields of study, like Marie Maynard Daly, Mary Logan Reddick, Patricia S. Cowings, Joycelyn Elders, Mamie Phipps Clark, etc. If you wish to learn more about these women, or even better, write a paper on the topic of black women in education, then make sure to turn to custom dissertation writing services, or consult different reliable sources on black-history.
Staff Writer; Jason Poole