Call of Duty Black Ops 4: Everything You Need To Know.
(ThyBlackMan.com) Call of Duty Black Ops 4 vs Battlefield 5 will be the most talked-about topic in the gaming community in Q4 2018. Activision and Electronic Arts are making every effort to win the year's biggest FPS battle. And it looks like history is repeating itself because reactions from the COD community are not very positive.
Just like how COD fans criticized Activision's Infinite Warfare in 2016, players have the same feelings about the upcoming Call of Duty game. Before we talk about those controversial changes, here's what we know so far about the Black Ops 4 game.
Call of Duty: Black Ops 4 beta details
COD: Black Ops 4 is set to receive a beta across all the traditional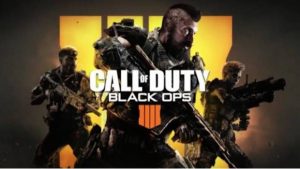 platforms. The beta will start in August and just like every year, PS4 players will be able to join it first on August 3. The Call of Duty Black Ops 4 beta on PS4 will run through August 6. Players on the Xbox One will be able to play the beta from August 10 to August 13. Registered PS4 and PC players will also be able to join this session.
What's new in the gameplay?
Call of Duty: Black Ops 4 will be a multiplayer fps game. Unlike the previous Black Ops games, this year's COD will completely ditch the traditional single-player campaign. The game will feature a new mode called Blackout for a battle royale styled multiplayer experience.
What is Blackout?
The game developer has confirmed a couple of features and gameplay details about the Blackout mode. Developer Treyarch has confirmed that the game will feature several locations inspired by the previous games' maps. The map in the Call Of Duty Black Ops 4 will be a lot bigger (about 1500 times) than Nuketown.
Additionally, the Blackout game mode will feature locations, characters, weapons, and equipment from around the series. There will be vehicles that can run in all the environments be it land, air or water. This year, multiplayer will be the only way to play Call of Duty: Black Ops 4, and Treyarch wants to make sure that their game emerges as the best shooter possible.
The company has taken some bold decisions and Blackout is probably the best thing the company could come up with to keep players happy. Features like wall-running and Jetpacks have been removed this time and a lot of classic features are returning.
Zombies in Call of Duty: Black Ops 4
Call of Duty games are incomplete without a Zombies mode. Treyarch is following the trend set in the series by releasing the upcoming game with a dedicated Zombies mode. The key change in the game with Zombies mode is the inclusion of three new maps telling a new story and allowing players to time travel. This is the first time when Zombies will have two different storylines. The journey of Zombies is very exciting. From a DLC to a fully-fledged game mode, Zombies has successfully set itself apart from the other series elements.
The Mystery Box
It appears that the Mystery Box has become an inseparable part of the Zombies mode in Call of Duty series. Treyarch has confirmed some highly anticipated changes in the Mystery Box. Players will now be able to decline the weapons they get after visiting a mystery box and those weapons can be offered to their teammates. In the upcoming game Call of Duty: Black Ops 4, mystery box improvements will reduce the time players spend while waiting for new offerings.
Call of Duty: Black Ops 4 release is set for October 12. The game will be released on the PS4, Xbox One, and PC. Black Ops 4 will compete with Battlefield 5 as EA will release its highly anticipated shooter just a week after the Call of Duty: Black Ops 4 release.
There was a time when indie developers and even big studios used to follow the COD series games. Previous games from the series have raised the bar for all FPS games. Sadly, the franchise now looks like it is playing catch up, following other games, and copying elements that worked for some other games.
On top of it, the developers are ready to ditch big elements such as the single-player campaign. It may look great in the big picture Treyarch wants us to see, but for long-term fans, Call of Duty in 2018 is not what it used to be.
Staff Writer; Corey Shaw
Have any Tech Tips? News? Hit up our Tech Guru at; CoreyS@ThyBlackMan.com