Five Principles to Send Your Children Back to School.
(ThyBlackMan.com) It's back to school time! Time to throw off the slumber and excitement of summer and get focused on building the future. How do we send our children back to school? Business as usual? Or, we do we send them back to school focused and prepared for the inevitable twists and turns of school life. The answer is obvious! We cannot afford to send our children back to school for the same results.
So how do we prepare them for the temptations of peer pressure? The demands of teachers? The difficult expectations of tests? How do we keep their heads out of social media into their future?
We must impress upon them and invest within them success principles that will keep them focused and push them to heights they have never before attained.
Success principles work! We know more about the brain, consciousness, will power and results-oriented thinking now than we've ever known before!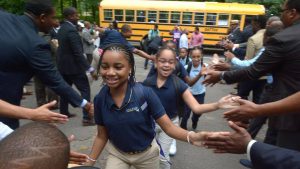 Sending our children back to school with concise, easy-to-understand principles will do much more to keep them focused than the constant attention tune-out commands we give them on a daily basis.
Use these five principles to emblazon upon and shape your children's mindset as they head back to the future!
Understand the failure versus success personality
Failure and success do not happen in a vacuum. As such, there are two personalities: success and failure. There is nothing in between. A child is born with the limitless tools to be successful but that same child is taught how to become a failure. Either way, that personality develops out of an consciousness.
It is better to fail in originality than to succeed in imitation
–Herman Melville
Write and institute a personal mission statement
A personal mission statement is a powerful tool for maintaining focus. It's a simple and concise statement that proclaims who this person is, what they stand for and how they will go about fulfilling their purpose in life.
It is a lot easier to stay focused and keep your head above water when you are pursuing your ultimate dreams.
–Maneet Chauhan
Understand the power of visualization
What are your dreams? If you see yourself as successful, you greatly increase the chances of its fulfillment. People who spend time visualizing their dreams coming true and what those dreams look like in real life, are those who experience the greatest fulfillment.
Visualize this thing that you want, see it, feel it, believe in it. Make your mental blueprint, and begin to build.
–Robert Collier
Know the difference between short-term versus long-term goals
Without a goal, we are nothing more than ships adrift upon the sea. Set short-term goals within six months. Set a long-term goal for end of year. When you set the goal, come up with strategies to reach your goal.
Set your goals high, and don't stop till you get there.
–Bo Jackson
Understand the difference between negative and positive peer pressure
Birds of a feather do indeed do flock together. If you hang around losers, you will end up becoming a loser. If you hang around winners, you'll win. Either way, it's choice.
You cannot expect to live a positive life if you hang with negative people.
–Joel Osteen
Send your children back to the future – not back to school!
Staff Writer; W. Eric Croomes
This talented brother is a holistic lifestyle exercise expert and founder and executive coach of Infinite Strategies LLC, a multi-level coaching firm that develops and executes strategies for fitness training, youth achievement and lifestyle management. Eric is an author, fitness professional, holistic life coach and motivational speaker.
In October 2015, Eric released Life's A Gym: Seven Fitness Principles to Get the Best of Both, which shows readers how to use exercise to attract a feeling of wellness, success and freedom (Infinite Strategies Coaching LLC, 2015) – http://www.infinitefitnesscoaching.com.