The Top 6 Smartwatches For Men You Can Buy In 2018.
(ThyBlackMan.com) 'Best smartwatches for men' isn't a moniker for stylish and expensive fitness trackers loaded with smart features. Smartwatches allow men to showcase their unique style taste and preferences. Men don't need a lot of accessories to reflect their personality and lifestyle. Smartwatches aren't just a fitness trackers some of them are designed to look great no matter if the user is wearing the watch in the gym or in the boardroom. Here we have selected 6 best smartwatchesfor men which you can buy in 2018.
Fitbit Versa
This year, Fitbit has launched a new smartwatch called Fitbit Versa. The smartwatch costs less than the latest Apple Watch Series 3 and runs on a more powerful battery. You can take Fitbit Versa at swimming pool as the watch is resistant to water up to 50 meters. The smartwatch works pretty good and does everything you can expect from a $200 smartwatch.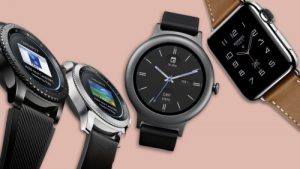 The Fitbit Versa comes in different combinations of colors and bands including rose gold, silver, black, and graphite. The smartwatch is not a step up in terms of key features and doesn't compete with the high-end expensive watches, but you get what you pay for. It has several fitness tracking features, watch faces, app notification facility that makes it the best Fitbit device. The Fitbit Versa deserves the top position on our list of the best smartwatches for men in 2018.
Samsung Gear Sport
While everyone is waiting for the Gear Sport 2 release, Samsung's Gear Sport comes packed with a lot of features and fitness tracking abilities. It's battery easily manages to last for four days. The Samsung Gear Sport now costs less than its $300 launch price and justifies its price tag with its powerful health-centric features.
The Gear Sport is water resistant up to 50 meters and it can also withstand salt water. It allows you to store your Spotify premium playlist locally and it brings some great smartwatch functionalities like sending and receiving messages. Overall, this watch is capable of satisfying casual fitness lovers and those who need smart features in their watch.
Apple Watch Series 3
One of the most amazing things you can expect from the Apple Watch Series 3 is music. If you're already a part of the Apple Music ecosystem and if your playlist starts and ends in the Apple Music world, the auto-sync feature is going to be a great surprise for you. Apple Watch works pretty well with the AirPods and iPhones. The watch supports messaging and it has also got cellular capabilities which is good but obviously not a feature everyone wants on a smartwatch. If you have an iPhone, you can go for it as it is one of the best smartwatches for men in 2018.
Huawei Watch 2
The Huawei Watch 2 is a beautiful smartwatch with solid build quality. It is designed to work all day, and its accuracy in tracking make it one of the best smartwatches to buy in 2018. The smartwatch easily beats the Apple Watch Series 3 in terms of battery life but fails to last for more than two days. With a 1.2-inch AMOLED display, the Huawei Watch 2 is a good alternative to other smartwatches, especially the previous generation watches from leading brands like Apple, Samsung, and Fitbit.
Fitbit Ionic
Fitbit Ionic is a beautiful watch that looks classy and amazing on the wrist. The watch runs on Fitbit's own operating system. It supports many applications and it can be used to make wireless transactions. Most importantly, it runs about 5 days after a full charge. The Fitbit Ionic is different from the competitors and the main reason is its unique design. It is one of the best smartwatches for men with large wrists.
Fitbit has also worked on improving accuracy and signal quality by making changes in the design. Fitbit needs to prove how fast it brings support for more applications. But if you're someone who loves smartwatches that put fitness first, the Ionic deserves to be on your list.
We also wanted to add Apple Watch Series 1 to this list of the best smartwatches for men because it is still one of the most powerful smartwatches with no-nonsense features. But it seems that Apple is slowly killing the Watch Series 1, and it wouldn't be a smart idea to buy a product which is likely to be killed.
Staff Writer; Corey Shaw
Have any Tech Tips? News? Hit up our Tech Guru at; CoreyS@ThyBlackMan.com