SPIKE LEE, TYLER PERRY, BERRY GORDY, BILL COSBY + the Role of the Black Artist.
(ThyBlackMan.com) The US has often been called a melting pot. Whether or not this is so ethnically, it is certainly true in the cultural sense. For example, Berry Gordy and his Motown Record Company avidly promoted cultural exchange and intermixture. Before Motown white record companies thoroughly dominated the music industry, deciding how and to what extent "race records," the name back then for music made by Blacks, would be distributed. They even put white faces on the covers of Black albums. Motown selected, produced and marketed Black artists to the entire nation while nonetheless maintaining a large, extremely loyal Black fan base.
Motown had great influence in promoting and shaping not only Black American culture but the nation's culture as Peter Benjaminson documents in The Story of Motown. In 1972 Gordy produced the highly successful motion picture Lady Sings the Blues based on the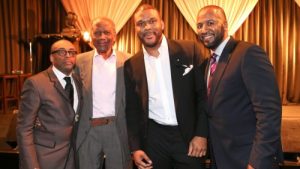 life of Billie Holiday, which was nominated for five academy awards. Motown's other films include The Bingo Long Travelling All-Stars (1976) which chronicled incidents in the life of Jackie Robinson, Willie Mays and Satchel Paige when they played in the Negro Leagues.
So we see that Berry Gordy made films about iconic Black figures using icons like Diana Ross whom he had helped create and rising stars (like Billy Dee Williams and Richard Pryor) solidifying their status and his own. The life and times of Berry Gordy and Motown Records have been the subject of a string of highly successful plays and films. Though Gordy did not see himself as primarily advancing Black consciousness, he took pains to present his artists and their work in the most tasteful manner and often touched on Black political themes. Bill Cosby would later move in somewhat similar fashion with The Cosby Show.
Tyler Perry made a number of films that touched on Black issues, but those that earned the most money by far dealt in Black comedic stereotype. Spike Lee took Tyler Perry to task saying, "I know that each artist should be free to do what they want. But these films are coonery and buffoonery. We can do better than that." Perry went on to vigorously and vociferously defend his work. Lee is right. Artistic freedom is just that, artistic freedom. He is also right that much of Perry's work is "coonery" and buffoonery, but the statement, "We can do better than that" is problematic. Who is to decide what is better and what is worse? Remember it is comedy. And so, where lies the line between acceptable and unacceptable, if there is one, and who draws it?
Likewise with the "N" word. Spike Lee criticized Quentin Tarantino for using it"38 times" in Pulp Fictionand outlined under which circumstances the N word can permissibly be used. But what if other people have different criteria? And they do. This is to neither attack Spike Lee nor defend Tyler Perry, but only to tease out the complexity of the issue. It is such a hot button topic it is hard to look at it objectively. Nonetheless, let us try to.
These two Black icons, Tyler Perry and Spike Lee, were not just having a personal argument, but a philosophical debate with their diametrically opposite artistic visions. Art is the expression of a people, a crystallization, an idealization, a stylization, a vision of a people. However, African Americans are simultaneously two peoples: Americans and Black Americans. Hence, they have a "double consciousness," as does African American art as exemplified by the works of Spike Lee and Tyler Perry.
_______________________