How to Show Your Man Appreciation.
(ThyBlackMan.com) Whether you have been married for a month or half a century, it is important that you show your spouse some appreciation. What most people fail to realize is that showing appreciation to their spouses benefits both parties: the giver and the recipient.
Here are some simple ways to show appreciation to your man:
Write a Love Note
Written notes never go out of style and you can use them to appreciate your better half. Nowadays, couples interact on social media and through emojis. Using your words to write on a piece of paper allows you to express your love in an old-fashioned and romantic way. When writing the note, you should start with the reasons you are grateful.
If you want to go the extra mile, you can even buy a card and pen your love note on it.
Give a Gift
How often do you buy your man a gift without prompting? Most women expect their men to shower them with gifts but they do not reciprocate. Buying surprise gifts such as omega men's watches and belts is the best way to appreciate your man. You need to fight the need for selfishness and surprise your man with an unexpected gift.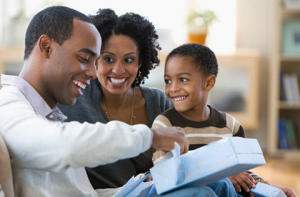 You can express your thanks with your body. Just pick any day of the week and get home early. Start preparing dinner, wear lingerie, and have a romantic night together. Wear the lingerie that your man likes to see you in and have a fun night. If getting your sexy on at home is difficult, you should book a hotel room for the night and get a babysitter for the kids.
Be Supportive
This might be the hardest thing to do, especially if you always spend your extra time together. You need to let him have alone time and do what he enjoys to do, whether it is mountain biking, hiking, or surfing. Unless he completely forgets about you during his alone time, being apart for some time is a good thing.
If you are worried about how long your spouse will be away, you should make plans for later. You will realize that spending time apart is beneficial, as it will give you more to speak about when you see each other again. If your man uses his time alone to meditate and exercise, he will be healthier and happier the next time you see him.
Put the Phone down
There is always one more status update and email to read. However, you need to treasure the time that you spend with your man by putting your phone down. You should spend your time together talking and playing board games, as this will create a stronger bond between you. If you have to answer a call, do it quickly and get back to each other. This is the best way to show appreciation for your man.
Compliment Him
Not all gifts have to be physical; you can also give your man the gift of words. Not just women need to be reminded that they are beautiful. Men also need to be complimented every now and then: it is good for their egos.
You can tell him how hot he looks when he wears a formal shirt or suit that you like. You should also remind him that he is handsome. Your spouse would like to know that you still find him attractive.
Conclusion
You can use the above tips to show your spouse that you still appreciate him. You should not assume that he knows. Once you start being complacent, your relationship will go downhill.
Staff Writer; Ron Graves