Talk to Your Children.
(ThyBlackMan.com) Today so much information is being thrown at children. Where once we had to be mindful of television as the main conduit of information the internet has seemed to eclipse TV. Everything is at ones' fingertips these days, and its easy to ask Google about anything that is on your mind. Grant it parents live in a very busy world by which making ends meet seems to be an ever-evolving struggle that is exhausting. Yet, we are still tasked with the rearing of our children, and we need to talk to them regularly. There is no way to keep them away from the ugly of the world, and there are more issues we must address with our children that could keep them alive.
Many of us grew up in a time whereby it was encouraged to look up information, read the newspaper, and catch the news. As adults we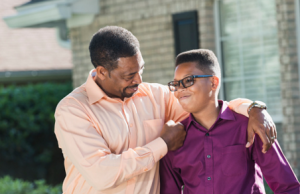 can find it difficult to wade through the murky waters of information, and we must keep that in mind when thinking of the minds of our children. They are in a stage whereby their minds are open and moldable. We have to talk to them about what they see in the current administration, and what they are learning.
Its important to talk to them about law enforcement, and how to reconcile what they are seeing happening around them verses what should be. If you are not talking to your child someone else is. When we don't take the time to find out what our children are thinking about the world around them we can run the risk of finding out when their decisions, and actions, are not favorable.
We must talk to our children daily if possible building a line of communication that allows them to know you are an open book. They know they can talk to you about whatever is on their minds, good or bad, and you won't judge them…but help them work through their ideas. There is so much more that our children are facing at a younger age and its important as parent to know here their minds are. There is nothing worse than to realize your child was in pain or tormented by different situations, but you never knew they were hurting.
We live in a time whereby suicide is plaguing our children. As parents we need to build a trust with our babies that allow them to know they are loved and cherished above all things. They need to know their life is important to us, and it will never change. We all need to put down the cellphones, press pause on social media and engage our children in conversation on a regular basis. Hear them out while offering them information that can help stabilize their foundation and give resolve to their life. This communication could save your child's life or one of their friends. If they come to you needing to talk…Mom and Dad make time because they are coming to the right source.
Staff Writer; Christian Starr
May connect with this sister over at Facebook; https://www.facebook.com/christian.pierre.9809 and also Twitter; http://twitter.com/MrzZeta.