What took so long to get Willie O'Ree into the Hockey Hall of Fame?
(ThyBlackMan.com) A pioneer is "a person or group that originates or helps open up a new line of thought or activity or a new method or technical development". In sports, pioneers are often viewed as people who make innovations or breakthroughs in how a sport is played or how the business of sport happens. Former baseball player Curt Flood was a pioneer through his case in the United States Supreme Court regarding the reserve clause and free agency for professional athletes. Former NFL head coach Don Coryell was a pioneer for his passing offenses and his offensive philosophy.
Arguably the most well-known pioneer in sports history is Jackie Robinson, who is often credited with breaking the color barrier in Major League Baseball. His journey has been well-chronicled as well as his road to becoming a Baseball Hall of Famer. In 2018, hockey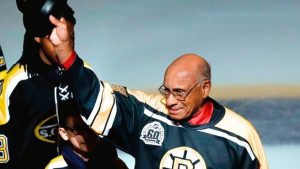 pioneer Willie O'Ree will be inducted into the Hockey Hall of Fame after becoming the first player of color in NHL history in 1958. Over 50 years since he last played, it is fair to wonder what took so long for O'Ree's induction into the Hockey Hall of Fame?
Willie O'Reewas a hockey Left Wing player who was born in Fredericton, New Brunswick on October 15, 1935. Prior to making history in the NHL, O'Ree played with the Kitchener Canucks of the Ontario Hockey Association in 1955-56 before being on the Quebec Aces, a senior team affiliated with the NHL's Boston Bruins, the following season. O'Ree made history on January 18, 1958, becoming the first player of color to play in the NHL as a member of the Boston Bruins.
He faced racial taunts from fans in both Canada and the United States while playing for a city with a checkered racial history. O'Ree was never as productive as he was during his amateur career as he played only two seasons in the NHL but he did open the door for other minority hockey players like Grant Fuhr of the past and P.K. Subban of the present. He will enter the Hockey Hall of Fame as in the "Builder" category, which can be viewed as a contributor to the game of hockey but how long does his wait compare to other athletes in similar situations in professional sports.
Jackie Robinson was inducted into the Baseball Hall of Fame six years after his last baseball game. Former NBA player Earl Lloyd, first black player to appear in an NBA game, was inducted into the Basketball Hall of Fame 53 years after his last basketball game. Former NFL player Kenny Washington, who was first African American to play in modern NFL in 1946, is not in the Pro Football Hall of Fame. It is important to note that each sport's hall of fame has different eligibility rules and the only Jackie Robinson's professional career, due to his accolades and production, could be considered worthy of being in a hall of fame without making history as a pioneer.
Earl and O'Ree made their respective halls of fame due to their contributions in making history in their leagues. While Jackie Robinson understandably received a lot of credit for breaking the color barrier and performing greatly under the microscope of what was considered "America's past-time", it is head scratching that it took O'Ree over a half a century to get the credit that he rightly deserves. It is great that he will be able to be present to receive the highest honor of his sport.
Staff Writer; Mark Hines