4 Simple Steps to Getting Healthy and More.
July 11, 2018 by Staff
Filed under Uncategorized
(ThyBlackMan.com) Now that summer is here, most people are in the park or on running trails trying to shed a few pounds. While there are a few who work with fitness professionals and devise intricate plans to achieve their exercise goals, there are those who simply would like to elevate their fitness level on their own dime and at their own pace. It does not cost a dime to get fit! All you need is a winning combination of desire and a plan. Here are four simple steps for getting healthy this summer!
Step One:
Set a Clearly Defined Goal
What's your goal? This is, without question, the number one reason exercise programs fail. Lack of clear and attainable goals dooms the most ardent of attitudes toward getting fit. The worst goal is the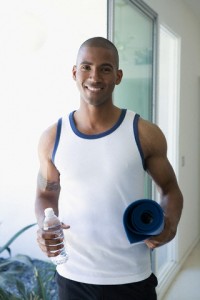 hazy goal. Do not say "I want to lose weight". That's an unclear goal. Put a number to it. If not pounds, perhaps it's inches. Furthermore, what's the ultimate goal and outcome? Do you want to successfully run a marathon?
Step Two:
Get the Proper Mental Attitude
This is the 'why' of your journey. Once you determine the 'why' you'll find it easier to determine the 'what'. Put a reason to your season of getting fit and you'll undoubtedly increase your likelihood for success. Why do you want to get fit? Is it because you're under a doctor's edict? Are you just being proactive? Is there a history of negative health outcomes in your family (diabetes, blood pressure etc.) that you want to avoid? Do you want to get a bikini body? Planning a trip soon and want to increase your stamina?
Once you have figured this out, steel yourself for success. Decide now that you are not going to be stopped!
Step Three:
Be Consistent
Being consistent means that you stick with it – even if it's a condensed exercise model on any given day. Do something every day that will move you toward your goal. Ask, 'What can I do today to maintain my consistency?' If you can't make it to the gym, maybe just do a short, interval model on your living room floor. If you did not plan your meal for the day, make it a point to limit carbs after 6pm. If you did not make it to your elliptical workout, take a twenty-minute power walk. At the end of the day, don't dwell on what you could not do; focus on what you can do. Success comes one rep at a time!
Step Four:
Measure Progress
Measuring your progress is essential to your success. If you get in your car in Phoenix and drive to Dallas, Texas without looking at your gas scale, you're likely to be on the side of the road somewhere in between.
One of the worst pieces of advice I've heard trainers give their clients is to stay away from the scale. Why? I suppose it's to avoid the drop in enthusiasm when the number does not match the effort (or vice versa). While that may appear noble, the fact of the matter is we have to gird ourselves for the ups and downs of a fitness journey. This is part of the mental process. I do suggest limiting the number of times you weigh in to one per week, but I certainly do not advocate completely avoiding the scale. You can't manage what you don't measure!
Define your goal. Get the right mental attitude. Be consistent. Measure your progress. These four simple steps can get you on the road to becoming healthy!
Staff Writer; W. Eric Croomes
This talented brother is a holistic lifestyle exercise expert and founder and executive coach of Infinite Strategies LLC, a multi-level coaching firm that develops and executes strategies for fitness training, youth achievement and lifestyle management. Eric is an author, fitness professional, holistic life coach and motivational speaker.
In October 2015, Eric released Life's A Gym: Seven Fitness Principles to Get the Best of Both, which shows readers how to use exercise to attract a feeling of wellness, success and freedom (Infinite Strategies Coaching LLC, 2015) – http://www.infinitestrategiescoaching.com.