Who Dies Most Often from Police Misconduct?
(ThyBlackMan.com) "Here we go again!" A sad refrain but…
In September 2016, race relations in America hit an all-time low when a white police officer in Tulsa, Oklahoma shot and killed Terence Crutcher. All at once, the ongoing issues with police shootings and race converged. Crutcher was an unarmed black man—his life cut short at only 40 years old.
Monday, June 25th, an unarmed teen shot by police—Antwon Rose II—was buried. Just hours before his funeral, in an interview, his mother accused police of killing her son "in cold blood."
East Pittsburgh police officer Michael Rosfeld shot Rose, 17, three times as the teen fled a car stopped by police. Classmates, teachers, family and neighbors of Antwon Rose II; described him as a caring and charismatic young man who deserves to be remembered as more than just the latest hashtag given unarmed black men killed by police.
Directly after Rose's death, protesters proceeded to march in downtown Pittsburgh demanding accountability. Across the city, over several days, groups of protestors shut down many highways and intersections.
"Three shots in the back. How you justify that?" protesters chanted.
But on Monday, the day of the funeral; the protests were paused to allow time for mourning. Rose's friends and family attended his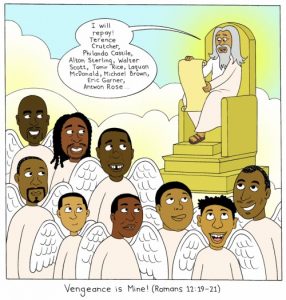 funeral at Woodland Hills Intermediate School, where the teen was once a student. Some have noted, in enragement: Here we go again!
In Chicago, members of the black community are following one of the most egregious cases: that of Laquan McDonald. Laquan, 17, was killed in October 2014 when Chicago police officer Jason Van Dyke shot him 16 times. Van Dyke has subsequently pleaded not guilty to six counts of first-degree murder and 16 counts of aggravated battery with a firearm.
Similar shootings throughout the U.S. have been caught on camera and widely shared via social media, prompting the development of the Black Lives Matter movement to address a seemingly-constant stream of unarmed black people being killed at the hands of American police officers. The issue has also caused some critics to disingenuously counter that white people are the ones who are killed most frequently by police officers. Take, for instance, a Washington Times article from April 2015:
An analysis shows that more white people died at the hands of law enforcement than those of any other race in the last two years, even as the Justice Department, social-justice groups and media coverage focus on black victims of police force.1
Any "analysis" of police killings will, of course, show that in absolute numbers, more white people are killed in police shootings than black people, because (non-Hispanic) whites comprise roughly five times greater a share of the U.S. population (62% vs. 13%). So any "analysis" that is based on nothing more than absolute numbers and does not take demographics into account is inaccurate and misleading.
Since the federal government doesn't keep an accurate log of police shootings, news outlets such as the Washington Post and journalists such as D. Brian Burghart have begun tracking such data independently. The Post described the statistical breakdown of fatal police shootings in 2015:
According to the most recent census data, there are nearly 160 million more white people in America than there are black people. White people make up roughly 62 percent of the U.S. population but only about 49 percent of those who are killed by police officers. African Americans, however, account for 24 percent of those fatally shot and killed by the police despite being just 13 percent of the U.S. population. As The Post noted in a new analysis, that means black Americans are 2.5 times as likely as white Americans to be shot and killed by police officers.2
According to Fatal Encounters, the database created by former Reno News & Review editor and journalism instructor Burghart (which tracks all deaths resulting from police interactions), a total of 1,388 people were killed by police in 2015—318 (23%) of them black and 560 (40%) of them white. So, roughly 23 percent of those killed in a police interaction in 2015 were black, and just over 40 percent were white. According to those statistics (adjusted for racial demographics), black people had a 2.7 higher likelihood of being killed by police than whites.
The grim trend was carried over into 2016. Of the 1,034 people killed and tracked by Burghart's Fatal Encounters database of that year, 215 were black while 338 were white; subsequently, in 2016, black Americans were three times more likely than white people to die in police interactions. That statistic holds for figures compiled by Burghart, between Jan. 1, 2013 to Sept. 21, 2016, with suicides-by-cop removed. Burghart reported:
I think it's pretty obvious that black people are killed at much higher rates than white people. I'm not going to say that white people are underrepresented in these numbers, since I think all people are overrepresented in this data, but it's clear that black people are highly overrepresented.
Other factors prevalent in analyses of the deadly use of force by police officers include age, gender, mental illness, and the circumstances of the deaths. In 250 of the fatal shootings recorded by the Post, the victims showed signs of mental illness. Men were killed far more often than women.
Something has got to change with respect to black lives being lost at the hands of police in America. My faith leads me to believe that God has a plan. I stand in total agreement with Ruth Graham (wife of the late Evangelist, Billy Graham) who, having complied with a request to review his manuscript of World Aflame, took umbrage to a certain chapter. The chapter in question had graphically described the sinful nature of America. She laid the document on his desk and decried, "Billy, if God doesn't come soon and bring judgment upon the United States, He's going to apologize to Sodom and Gomorrah."
With regards to the innocent black lives lost at the hands of unrepentant police officers in America, let's hope and pray it doesn't come to that!
Staff Writer; Stanley G. Buford
Feel free to connect with this brother via Twitter; Stanley G. and alsofacebook; http://www.facebook.com/sgbuford.