Introducing King Opioid and Queen Addiction.
(ThyBlackMan.com) In the sparse, musty hallway of a substance abuse center, a seedy couple point to a jar stuffed with pills. And tell the patients they will do whatever it takes to keep them high and dependent on drugs. Such is the cruelty of King Opioid and his associate Queen Addiction, two hooligans hell-bent on keeping the drug crisis intact.
As the summer of 2018 revels in its infancy, two parasites continue their devastation on America's heartland. Their names, King Opioid and Queen Addiction, the reigning monarchs of the Opioid Epidemic.
In pinpointing their place on the drug hierarchy, opioids are painkillers prescribed by doctors. The most popular opiates are fentanyl, morphine, hydrocodone, and oxycodone. For readers of this website, fentanyl may sound familiar, since this is the drug that killed music legend Prince. With the formalities taken care of, it's time to get up close and personal with our couple, K and Q,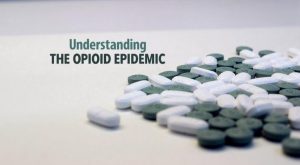 hereafter known as King Opioid and Queen Addiction. Here we go!
King Opioid, holding a pill in one hand, and Queen Addiction holding a prescription bottle in the other, turn ordinary people into hard-core addicts. Armed with the promise of no more pain, the couple sneers and laughs at those seeking relief from their dangerous products. Long Live Rehab!
King Opioid and Queen Addiction leave a trail of bodies in their wake, from the scenic beaches of Florida to the rugged boroughs of New York. According to the Centers for Disease Control and Prevention (CDC), in 2016 over 41,000 people died from opioids. Is that the sound of disbelief reeling in the background? You bet it is!
King Opioid and Queen Addiction are our prison wardens, our death sentence without a trial. This couple assaults not only the addict but all of us in their ferocious attacks. So, score one for the Ruff Ryders in their game of Doom and Gloom.
King Opioid and Queen Addiction, in their quest for dominance, will make you neglect your job, your home, your spouse, your children and even yourself. Don't believe it? Ask the thousands of people whose life is consumed by prescription pain pills 24/7.
King Opioid and Queen Addiction outwit the rich and famous, blinding them to their notoriety and leave the public shaking their heads and saying even superstars bow down to this power couple. Oh, the joy of stardom!
King Opioid and Queen Addiction Show No Mercy. As soon as an addict thinks he has kicked the habit, they pull him back in by playing on his insecurities and other emotional mishaps. Then it's off to the doctor for another prescription. When does the cycle end?
As for apprehending Mr. and Ms. Killjoy, forget it. These two criminals can't be caught, because of their popularity and overwhelming influence on the masses. The King and Queen sit on their throne eagerly awaiting their victims. A knock at the door discloses customers of every age, race and sexual orientation. Boom, it's party time!
Consequently, as King Opioid and Queen Addiction lure victims into their trap with the promise of reducing pain, heed this warning: If you want to stay sane, safe and happy don't invite this couple into your home. If you do, all the money in the world won't guarantee their departure.
Staff Writer; Peggy S. Butler
One may also view more of this talented writer work over at; http://peggysbutler.com. Also feel free to connect via Twitter; http://twitter.com/peggybutler647.