Apple's Future MacBook Has a Surprising Feature: "Living Hinge".
(ThyBlackMan.com) Apple's WWDC 2018 event got over, but the company didn't say anything about Apple's future MacBook. As usual, it was a software-centered event and we didn't get any solid clue about what to expect for the MacBook 2018. A couple of weeks ago, a patent application surfaced online and it hints at a big change. In Apple's future MacBook products, we can expect to see a living hinge.
Apple has been working on a product's design concept since 2013. Recently, the company added new information to that product's patent details. A few weeks ago, the European Patent Office published this information and it suggests that Apple is working on a new MacBook with a flexible hinge. Apple has claimed that the flexible material will be foldable and you can fold it in half. The product will act as a laptop shell, Apple noted.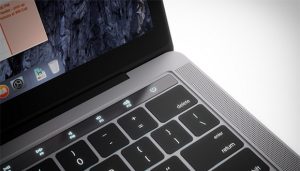 About the design, Apple mentioned that the product's top area may support a display screen. The bottom area may support a trackpad and a keyboard. For the other parts like sidewalls and internal parts, Apple will use a rigid material. Everything will be in "accordance with conventional laptop computing devices," writes Apple.
After this revelation, it looks like Apple is currently working on a living hinge for MacBook. The company also noted that it may use the flexible hinge for smartphones and iPads. It is still a possibility because we know how eagerly the market is waiting for foldable phones.
It looks like Apple's patent is taking the MacBook design closer to the design of the Microsoft Surface Book. You can press the hinge in the opposite direction on the Surface Book. The device supports tablet mode, so you can detach the display and keyboard at any time on Surface Book. We don't see this happening to MacBook.
Here are a couple of things we can expect from Apple's future MacBook.
If Apple brings living hinge on MacBook, the manufacturing process will become faster. Manufacturers won't have to work with different materials for the laptop's chassis. Apple plans to use a single rigid material for the laptop clamshell while still providing the required flexibility.
If Apple implements these changes, it will remove plastic strip from MacBook laptops. The living hinge design will no longer need the strip it puts on MacBook and MacBook Pro laptops. There's no information about the material Apple is planning to use on the new MacBook. The possibility of using aluminium is high. Apple is currently using aluminium on its products and the material is stronger and more durable. Using glass will significantly increase the price of Apple's future MacBook. It's not easy to mold glass to achieve the results shown in patent images.
It's unclear if Apple really wants to commercialize the idea of living hinge on MacBook. The design, as shown in the patent images, suggests that there will be a huge gap between the top and bottom covers. This gap will likely be filled with hardware components. What we see in the images is just a cover without the keyboard, display, trackpad and other components.
Time will tell us if Apple will give a shape to its research efforts. One thing is sure that Apple has been working on this thing since 2013. The recent updates in the patent details suggest that the company hasn't ditched this idea. If it happens, we are not too far from the day when we will see foldable iPhones. And a living hinge on Apple's future MacBook and MacBook Pro laptops will become a reality. Maybe within a year or two.
Staff Writer; Corey Shaw
Have any Tech Tips? News? Hit up our Tech Guru at; CoreyS@ThyBlackMan.com