Am I Black Enough?
(ThyBlackMan.com) A call came from guests on the 3rd floor who hadn't quite figured out how to unlock the attachment on their room door. A swanky vacation rental with a nightly rate somewhere in the low 300's on a busy stretch, downtown New Orleans. Arriving, I spot three Black women, luggage in tow, no smiles.
"I'll take care of it for you. I'm Charles."
This is one of the easier parts of the job. Greeting guests and making nice. Small talk ensues and then–it happens–without warning.
"You Black? Didn't think you was Black at all."
I respond in a familiar fashion (to me). Smirk. Fake giggle. Nod and refocus.
"Where y'all traveling in from?" The next one looks perplexed as I pull the key from the lockbox and shove it in the door. "Don't sound Black eitha. " I hold the door open, surely a look of "stfu" looming in my stern eyes, draining down to the crease in my puffed cheeks. "Oh we just messing with you handsome."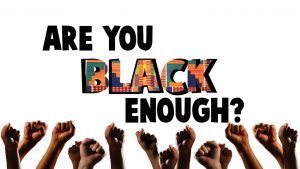 "Have a good night." I don't have the energy tonight. My other usual reaction is viceral in verbiage, generally mumbling and spatting off about "Yeah, last time my black ass checked. My mama was Blacker then you, asshole!" But tonight didn't bring it out for whatever reason. Good reason, surely.
It's become commonplace. When it first happened upon me by a teasing neighbor at 11, I had to ask myself, "Am I black?" What does it mean when someone who looks a lot like me questions my right to be what I am? As a mixed-race teenager in the multicultural Mecca that is San Francisco, on the back of crowded urban buses, while wearing nice slacks and polo shirts, and sporting a Jansen stuffed with Chemistry books and track cleats, the question revved up all-too-often, "Am I black enough? " Am I compensating for the vulnerability in the notion by changing speech patterns, attitude, behavior? At some points in life I'm sure we all have bent in the face of peer pressure and socializing conformity.
Fragility as a teenager aside, I knew damn well I was intelligent, eloquent and proudly Black. In the 6th grade I often rocked t-shirts from HBCU's logos adorned and Malcolm X caps as my attire, beaming with organic pride. My parents weren't the Black Panthers but their pride of race and culture made its way to our dinner table and living room often, through critical dialogue about the neighborhood, about class, socioeconomics. And, I wasn't admonished by them when during "free dress" at our private, Catholic middle school in the sixth grade I was sent to the principals office for wearing a "Jesus is a Black Man" T-shirt.
I loved that shirt and the incident only fueled my desire to learn more about the greatness of blackness. I suppose there are readers, young and old, who have, and who may continually battle with this ideology of "black enough." What does it mean to be black enough? To sound black? Being black, for me, comes with expectations to be phenomenal and above average–nothing less, and sometimes much more.
Staff Writer; Charles Foster Jolivette
This talented young man can also be found over at; The California Creole and also Charles Patreon Page.