NBA 2K19 Cover Athlete, Gameplay, Features & Everything in the Wishlist.
(ThyBlackMan.com) The NBA 2K19 cover athlete will surely inspire all sorts of discussions. This announcement will get people thinking about the decisions 2K makes. Apart from the NBA 2K19 cover athlete, franchise fans are waiting to hear about the gameplay.
September 2018 is the time when 2K Games will release this year's NBA 2K game. There are a few things we know so far about NBA 2K19 and things we want to see in the final game.
NBA 2K19 Cover Athlete Predictions
Fans have suggested many names for NBA 2K19 cover athlete and who would be on the special edition cover. Joel Embiid and Allen Iverson appear to be the strongest candidates among all. Embiid has a charismatic personality. Being a part of the Team 2K, he has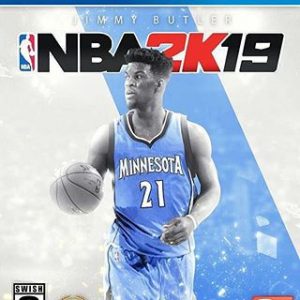 secured a spot on the brand's advertising material. He deserves to be the NBA 2K19 cover athlete. Iverson is also a possible candidate for the cover pic on the NBA 2K19 special edition. He is the man who has been with 2K for more around 20 years.
NBA 2K19 Gameplay Features
2K Sports is now focusing on current generation consoles. The latest release arrived on Nintendo Switch as well, and we can expect a more polished game in 2018. The depth of gameplay in NBA 2K series is matchless. There are some complaints about MyCareer mode, virtual currency, and Create-A-Player suit. Some hardcore fans didn't like some changes, but the game is still a big hit among average players.
You can expect to see MyCareer, MyGM, Season and other popular game modes this year again. The return of the Neighborhood mode is something fans are curious to know about. The Neighborhood looked like a half-baked idea in NBA 2K18. Its increased dependency on VCs disappointed many fans. Players also criticized 2K for random character spawn in the Neighborhood.
If 2K adds The Neighborhood to the upcoming game, developers must design this mode from a player's point of view. Some may argue that they can't ignore the need for monetization. It's true, but it would be wise if 2K manages to fix issues players have been complaining about. We still don't know what's in the store for hardcore gamers, but we are excited about the improvements 2K is planning.
Things 2K should fix
More than the NBA 2K19 cover athlete announcement, people are waiting for a bug-free game. Glitches made us laugh, they inspire players to make memes too. Can we expect fewer glitches from this year's NBA 2K game?
There's a fine line between what players can tolerate and what's totally unacceptable. Everyone makes mistakes and that's absolutely fine. But, it doesn't mean that match-breaking shooting glitches or CPU cheats can be considered funny. It's not funny and every year, players don't pay to see a game developed in a hurry.
An unfinished project not only disappoints fans, it is an embarrassment for a game publisher like 2K. It's seemingly hard for the developers, but A.I. needs to learn some better shots. The faulty physics in the game needs to be fixed. Especially the movements of the ball and those hilarious body glitches must be fixed without waiting for the League to start.
One big improvement we expect to see in NBA 2K19 gameplay is the inclusion of more body types in MyPlayer. While the other characters are designed pretty well, the character you create look and feel the same. The build type of the character appears to be the same regardless of the character's weight.
NBA 2K19 story needs better dialogue writing and a different tone of voice. If you have played the game, you will notice how MyGM feels. It's good that developers are adding new features, but MyGM has become more frustrating with time. It feels like you're bound to spend time on pointless in-game discussions. Those who don't feel like spending time in this mode can move on to MyLeague, but that's not the point here. If 2K manages to create a better narratively-driven game mode, the story will become less predictable.
Discussions about microtransactions have never been so heated before. With NBA 2K18, the creators need to focus on balancing progress and VCs. The latest game feels too slow as it requires players to accumulate more VCs. We don't expect NBA 2K19 to ditch microtransaction models, but players should be allowed to progress in a balanced way and should not be forced to drop real money on progression or expensive in-game items.
From the NBA 2K19 cover athlete to game modes and pre-order release, there's so much we haven't heard about from 2K. The game will arrive sometime around September and it will be available on all the major platforms.
Staff Writer; Corey Shaw
Have any Tech Tips? News? Hit up our Tech Guru at; CoreyS@ThyBlackMan.com