Bill Russell's longstanding legacy larger than basketball.
(ThyBlackMan.com) The 2018 NBA Finals are upon us. The Cleveland Cavaliers and Golden State Warriors are battling for an unprecedented fourth consecutive year for a NBA championship. If the Warriors win, they will be mentioned among the great dynasties in NBA history with teams like Michael Jordan's Chicago Bulls, the Shaq and Kobe Los Angeles Lakers, and even Bill Russell's Boston Celtics of the 1950s and 1960s. Over the course of the NBA Finals, LeBron James will be the much of the focus as he constantly is compared to Michael Jordan for the "unofficial" mantle of greatest NBA player of all time.
It is virtually impossible to bring up that discussion without mentioning legendary players like Wilt Chamberlain and Bill Russell. As impressive as Russell's feats were on the basketball court, he retains his strong and consistent search for justice for black people in America. There are many ways he is as important today as when he was winning many championships as a NBA player.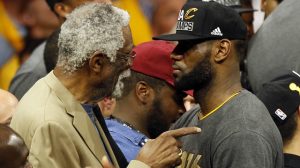 Because he won an incredible 11 NBA championships, Bill Russell is often mentioned as the "ultimate winner" in all of professional sports. The title as the "ultimate winner" can serve as both a complement and an insult as it displays that has reached the highest mountain of championships but it also diminishes his terrific talents and accomplishments. While the Boston Celtics of the 1950s and 1960s were loaded with Hall of Fame players during Russell's tenure, he was clearly the best player and driving force behind those teams.
He is arguably the best defensive player in NBA history and he turned shot blocking into a thing of beauty. The NBA did not keep records for shot blocking during Russell's career but he would likely own virtually all records for blocking opponents shots in NBA history if there were counted then. The NBA did keep track of rebounding during Russell's time and his rebounding was unbelievable. He ranks second, to longtime rival Wilt Chamberlain, in NBA history in rebounds per game at an absurd 22.45 rebounds per game. For context, only Chamberlain and Russell average even 20 rebounds a game for their careers among all NBA players ever.
Today's athletes like LeBron James often succeed and perform under intense pressure from both media and fans. Bill Russell had to succeed, like many black athletes during the height of the Civil Rights Movement era, under a different type of scrutiny. Russell excelled and won in the city of Boston, which has a checkered history towards black people, and Russell once called the city "a flea market of racism,'' in his 1979 memoir. He also participated in the 1963 March on Washington and vocally supported Muhammad Ali's anti-war stance. While many athletes of his magnitude would have used their prominence to help their own pocketbooks, Russell found it more important to be part of social change.
Today, Bill Russell is as relevant and important as ever. He was the first black NBA head coach in history and current black NBA coaches such as Doc Rivers, Nate McMillan, and Ty Lue, who is coaching the Cavaliers, are coaching due in part to Russell's success. The NBA Finals Most Valuable Player this year will receive the Bill Russell NBA Finals Most Valuable Player Award named after him and it has become an annual occurrence to see Russell present the award to current greats like LeBron James and Kevin Durant. He is now 84 years old and maintains his strong voice for civil rights including support for Colin Kaepernick and against police brutality. All sports fans should have a deep respect for Bill Russell's feats on and off the court.
Staff Writer; Mark Hines