Apple MacBook vs iPad Pro: Which Is better in 2018?
(ThyBlackMan.com) Apple MacBook vs iPad Pro? Which one is better? What would you do if you were to make a choice? Let's make it easy for you. We have two great products from Apple: the MacBook and the iPad Pro. One is lightweight, and years ahead, and one is so advanced that it lets you do everything better. Apple's marketing chief Phil Schiller once said iPad Pro can replace and supplement Mac. It's true, but only in some cases.
What to expect from the Apple MacBook
The Apple MacBook is a mini laptop that comes with 12-inch Retina display. So, what's Retina Display? Well, it's a marketing term Apple uses for its devices with high pixel density display. The MacBook comes with an IPS LED display and supports many resolutions.
On a MacBook, you can get an entry-level 1.2GHz dual-core Intel Core M3 processor. If your budget allows, and if you are a power user, you can configure the MacBook with a 1.3GHz dual-core Intel Core i5. Or you can choose a more powerful 1.4GHz dual-core Intel Core i7 processor. Depending on which processor unit you select, you can configure the laptop with an 8GB of RAM to a 16GB of LPDDR3 RAM. On the storage side, you can configure your MacBook with a 256GB or a 512GB solid-state drive (SSD).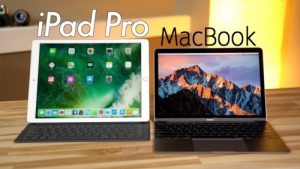 MacBook is a lightweight device. You may notice its 2.03 pounds of weight when carrying it in a shoulder bag, but that's not a big deal. It's slim and it looks beautiful like the other Apple products. The MacBook comes in four color options Rose Gold, Space Gray, Gold, and Silver.
MacBook's display is one of the key reasons people love it. Pixels on the display create a large aperture offering more realistic visuals. The Intel HD Graphics 615 is enough for graphic-rich applications. Apple is also offering MacBook Pro and MacBook Air in 2018. In the MacBook Pro series, you get 13-inch and 15-inch models. From the MacBook Air series, you can pick the latest 13.3-inch laptop.
What's in store for iPad Pro fans
The iPad Pro comes in two variants: 10.5-inch and 12.9-inch. With these two devices, Apple broke the design trend it has been following for a long time. The Apple iPad Pro is available in three storage options 64GB, 256GB, and 512GB. The tablet runs on Apple's A10X Fusion chip coupled with 4GB of RAM.
Apple's iPad Pro comes in Wi-Fi and Wi-Fi + Cellular models. When compared with a MacBook, the iPad Pro is very light and has a better camera than the MacBook. Let's have a look at how these two compare against each other in this Apple MacBook vs iPad Pro battle.
Apple MacBook vs iPad Pro: If you love multitasking
The iPad Pro is beautiful, lightweight, and easy to carry, but it is not a MacBook alternative for everyone. If your work requires multitasking, you should pick a Mac laptop. Multitasking on iPad Pro is time-consuming and it's pointless. The iPad Pro's split view feature is helpful, but it's not that great.
Touch input
There's no touchscreen functionality available on Apple laptops. So, if you need a touchscreen and stylus input support, iPad Pro should be your choice. Many of us are comfortable with touchscreen devices so the iPad Pro doesn't feel different. For detailed work, touch input and stylus support can be helpful and can be a reason to pick iPad Pro over a MacBook.
Apple MacBook vs iPad Pro: Software/Office Work
These days, productivity on a PC depends on how powerful the operating system is. Apple's iOS on iPad Pro can run many apps, but it doesn't always support all the features of software you use on a laptop. As a result, user experience with software applications becomes limited. Compare the iOS version of any popular software with their desktop counterparts. You will see how different the user experience is on iOS and Mac.
4G Connectivity
Apple's iPad Pro supports Wi-Fi and cellular connectivity. People who travel more or don't have easy internet connectivity, the iPad Pro is a more convenient option for them. A cellular connection is easy to use. It's useful in places where you don't feel comfortable in connecting your device to a new unfriendly network.
Apple MacBook vs iPad Pro: Hardware support
MacBook devices have Thunderbolt and USB ports. The extra ports come handy when you want to connect your laptop with other hardware such as printers and hard drives. The iPad Pro offers limited connectivity options. If you are a web developer or you need external displays, a MacBook can support up to two external monitors. With the iPad Pro, you can only cast screen on a screen but it lacks multiple display support.
Staff Writer; Corey Shaw
Have any Tech Tips? News? Hit up our Tech Guru at; CoreyS@ThyBlackMan.com