Hair Loss Treatments.
(ThyBlackMan.com) Losing your hair doesn't have to be an embarrassing ordeal. Here are four treatments you can try that can help prevent hair loss, and in some cases actually stimulate hair regrowth.
Laser Light
Laser light hair therapy devices, many of which are FDA-approved, have been taking the market by storm. These treatments are used to stimulate the flow of blood to the hair follicles, acting like a powerful version of Nioxin shampoo.
The lasers won't cause any new hairs to grow on your scalp, but they do help convince those that are still there to hang around a little longer. The only negative thing about this treatment option is the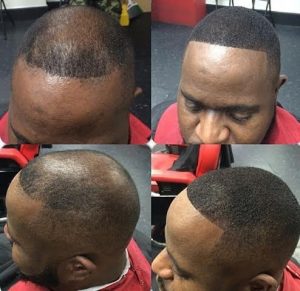 time that you must dedicate to it. It's not a quick fix, and it certainly doesn't cure any baldness. However, it doesn't have any major side effects to note.
Minoxidil
This topical treatment is found in several brand name products that promote new hair growth. Minoxidil is a medication that comes either in a topical form or a pill form. You might grow a bit of fuzz on top of your head while taking this drug, but if you ever stop, you will lose whatever hair you've gained. There are a few side effects of the drug like chest pain, though this is rare, and contact allergic reactions, which are much more common. Minoxidil can be purchased over the counter, but it can be prescribed by your doctor as well. Always speak with your physician before taking any oral medications of this nature.
Nioxin
This type of hair care product is a shampoo that helps fight thinning of the hair in those that use it. It doesn't completely stop the hair loss process, but it does slow that process down considerably. Unfortunately, it's not a miracle-working shampoo, but it does contain ingredients that are free of harsh chemicals and is full of natural substances to make the hair you have left look incredible. These ingredients also help stimulate the blood circulation in the scalp to better feed your hair follicles, which can only be beneficial in the long run. Unlike spironolactone and other treatments that play on the body's natural hormone levels, Nioxin shampoo can be purchased without a prescription in most major drug stores and pharmacies.
Transplants
If none of these options seem right for you, you can always head to the doctor for hair replacement surgery or a hair transplant. There are options for those that want to avoid scars, and there are options where you use some of the hairs on your head to transplant into the areas of baldness. The surgery consists of tiny hair grafts that happen under a microscope. These grafts are planted into the thinner areas of your head through very small, minor incisions. Speak with your doctor about the different hair transplant options you have when it comes to this type of surgery. You might decide on a few other treatments before opting for surgery to regain your hair.
If you've tried it all and nothing works, it might be time to speak about implants. Remember, there are ways to regain your hair after that loss, and you might just gain back your confidence in the long run.
Staff Writer; Craig Jones