Famous French investor Vincent Bollore facing justice procedure concerning his businesses in Africa.
(ThyBlackMan.com) Last month, on 23th April 2018, the well known French business man Vincent Bollore, 66 years old was taken into custody by the Central office against corruption, financial and fiscal offenses in Nanterre (France). After 2 days and 1 night of interrogations to him, the financial department judges decided on 25th to indict him for "corruption of foreign public agents", "complicity of breach of trust" and "forgery and use of forgery" in the process of obtaining concessions from African ports. They reproach him to have made it easier in 2010 through his advertisement company Havas the election of Alpha Conde, the president in power in Guinea-Conakry in Western Africa. He is also suspected to have helped the election and reelection of Togo president, Faure Gnassingbe. The 2 heads of state, Faure and Conde had granted Bollore their ports contenairs terminal management. French justice is investigating to control the details of how Bollore was conducting his african affairs.
7 African ports concessions to Bollore have been subjected to serious critics. In France and Africa, people reacted extremely amazed by these news. Vincent Bollore is since long decades seen as an untouchable and powerful man. Friend with an impressive number of French and African government's members, with many head of states, ministers, diplomats, no one could think Bollore could be worried by justice system in his country. Indeed, his methods had numerous people to feel him as a major enemy.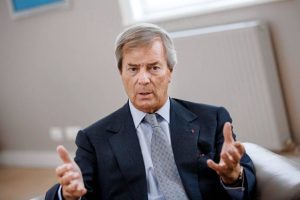 Necotrans, a french company, before 2010 got the Guinea state agreement to rule the port of Conakry. When President Conde was elected with the marketing support of Havas Group, Guinean could clearly noticed that President Conde government stopped Necotrans contract arguing that Necotrans could not satisfy all the aims promised. President Conde immediately offered the port management to Bollore Group. Some soldiers of the army went to Necotrans offices to chase the workers and close the headquarters manu militari. Necotrans filed a lawsuit against Bollore and won it. Bollore should pay a huge amount of money to Necotrans but Bollore appealed this court decision.
At the end of this conflict, Bollore bought Necotrans which definitively disappeared. He gets participation in farming companies and controls indirectly in Cameroon 136,000 hectares of planting to produce oil palm. These plantings workers complained loudly for their work conditions, their neglected social rights, their poor salaries and families' life standard. They even organized in coordination with human rights activists in 2016 a committee, a rally which visited the investor at his building headquarters in Paris. Bollore is nicked by some French medias as "smiling killer". In Benin, President Patrice has refused to Bollore a $3 billion rail project to cross 3 countries Benin, Côte d'Ivoire, Niger, Burkina-Faso. In an interview to Challenges magazine, Patrice Talon asked Bollore to abandon this rail project of 1,170 km and 1,830 km restoration.
Bollore had already built 140 rail km in the desert of Niger. President Talon ordered Bollore to end his construction site which, according to the Beninese president, is not of durable quality. The project would be attributed to China. Vincent B. censured at Canal+ a report showing Togolese denouncing the dictatorship regime of President Faure. Facing police repression, Togolese are demonstrating to make Faure leave the presidential seat.
Bollore Group, the most powerful financial empire in Africa is present in 46 African countries with 20,000 employees and $2 billion investment annually. Africa continent represents 80% of his group benefits. Bollore holds 14 ports in Africa (shipping) and 23 dry ports, the road and rail network. It is rehabilitating the rail between Abidjan and Ouagadougou, 1,300 km for $2,992,250. New ports were announced in Abidjan (Côte d'Ivoire), Tema (Ghana), and a new contenair terminal Douala and Kribi (Cameroon).Vincent Bollore is the owner of Bollore Group and the head of administration counsel of Vivendi. Recently, he gave up the direction of administration counsel of Tv group Canal+ under the workers and journalists protests. His fortune is estimated at more than 7.3 billion euros, making him the 10th French fortune.
Source: https://www.latribune.fr/economie/france/vincent-bollore-mis-en-examen-pour-corruption-dans-l-affaire-des-ports-africains-776747.html
Staff Writer; Abu-Jahlil Astrid Chacha
One may also connect with this brother on Facebook; Segla A.