7 Secrets of Celebrity Parents You Can Steal Right Away.
(ThyBlackMan.com) Fame comes to them in many ways and with a lot of perks. Celebrity kids are born with the opportunities to visit amazing places, attend big parties, enjoy dinner with fascinating people and travel in style on huge yachts, luxury cars, and private jets. As parents, famous people also have to face parenting challenges like everyone else. When you're having eyes on you all the time, certain things become challenging. If you want to learn about parenting secrets of celebrities, here are 7 secrets you can try.
1. Be fearless, but keep it real
Many celebrities have raised successful kids and Will Smith is one of the finest examples. With his three kids Jaden, Willow and Trey Smith, he is very supportive and expects them to be fearless. He says there's nothing wrong if kids are having their own choices and making their own decisions as long as they can explain why their decisions are right. You can see Will Smith defending his son's choice when Jaden appeared wearing women's clothing.
2. Be Responsible because no one else can do it for you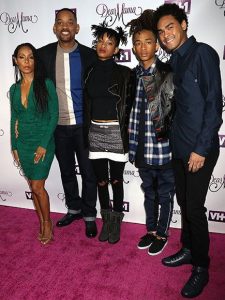 Being a responsible parent is not easy but you have no other choice unless you want to be labeled as a bad parent. During an interview, The Blue Lagoon star Brooke Shields revealed she thinks she is an "overbearing controlling parent." According to the actress, it's a straightforward approach because we are responsible for ourselves and our kids. It's hard to expect your kid to show mature behavior at the age of 4, but sometimes, you have no other choice than teaching them to do so.
3. Lead by Example
When it comes to learning the secrets of celebrity parents, there's so much you can learn from Angelina Jolie. She is the one who believes in setting examples for kids so they can follow. In an interview, she said that leading by an example is a part of her parenting style. "Live by your values," said Jolie who is known for beautifully raising six kids. According to Jolie, the best way she knows to raise kids is by listening to them. It's true that you can't just preach something and act in a different way. Kids see you and learn from you. So if you want to give them a reason to believe what you want them to learn, set examples.
5. Drag Them into Learning Life lessons
Some parents allow their kids to spend time watching TV or using smartphones. Getting lost in technology is normal for kids these days but for relaxation, taking help of technology is not really good. During an interview, actress Salma Hayek said parents should drag their kids into learning about reality. Kids can learn about life by participating in it. She warns parents saying when parents don't introduce kids to real-life lessons, "isolation starts to happen."
6. Forget About Your Job
Not making a big deal about their parents' job is the best way to keep kids maintain a normal life. According to the former First Lady Michelle Obama, she always maintained the family time very well so, during the dinner time, her daughters never felt like they were having dinner with the President of the United States. According to her, Barack Obama's work remained the last thing they really cared about during the dinner time.
7. Don't Put yourself Out too Much
When it comes to parenting, celebrities have their own ways to deal with situations. American actress Drew Barrymore believes in a simple formula – never put yourself out too much because there are some things kids should not know about parents. Mother of two daughters, Barrymore is determined not to embarrass her kids. During an interview, she said her mother wrote a book on sex. The experience led the actress to feel embarrassed and she says she will never let any such thing happen with her kids.
Staff Writer; Corey Shaw
Have any Tech Tips? News? Hit up our Tech Guru at; CoreyS@ThyBlackMan.com