Big questions surrounding youth football.
(ThyBlackMan.com) One of the staples of football in America is Pop Warner Football. Pop Warner Football has almost become synonymous with youth football. Pop Warner Football is "non-profit organization that promotes youth football and cheer & dance programs for participants in several states and countries around the world." Because Pop Warner Football has been in existence since 1929, countless numbers of football players have participated and even many NFL players previously played Pop Warner Football. However, there are some major question marks for youth football because of the mounting evidence against children and youth playing tackle football.
A new study recently published by in the Annals of Neurology detailed important information regarding youth tackle football. The study found that among 211 deceased football players who were diagnosed with CTE after death, those who played tackle football before age 12 suffered from cognitive, behavioral and mood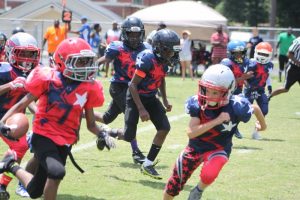 symptoms earlier than those players who didn't start to play until after age 12. Dr. Ann McKee, director of Boston University's Chronic Traumatic Encephalopathy Center, who has done a significant amount of work regarding football and the brain led this study. The study also apparently shows a link to playing tackle football as children and suffering symptoms of brain disease, like cognitive impairment and mood swings.
The NFL has implemented numerous rules over the past decade to increase player safety. These new rules have led to anguish from current and former NFL players about the "lack of physicality" being taken out of the NFL and football in general. Some former NFL players have different opinions regarding the game they once played and have been vocal about the dangers of football. There have been NFL players like Kurt Warner and Adrian Peterson who have publicly mentioned that they would not let their children play football and LeBron James made waves years ago when he said the same thing.
Pro Football Hall of Famers Nick Buoniconti and Harry Carson and researchers from Boston University have decided to be proactive regarding youth football. They are working with the Concussion Legacy Foundation to support a new parent education initiative, Flag Football Under 14, that pushes for no tackle football until the age of 14. Both Buoniconti and Carson voiced their concerns about youth tackle football from two different perspectives. Buoniconti said, "I made the mistake starting tackle football at 9 years old. Now, CTE (chronic traumatic encephalopathy) has taken my life away. Youth tackle football is all risk with no reward." Carson mentioned, "I did not play tackle football until high school, I will not allow my grandson to play until 14, as I believe it is not an appropriate sport for young children." Two all-time football greats have joined the group publicly calling out the dangers of youth football.
The NFL has a personal investment to have youth continue to play tackle football because they personally need to continue to feed the talent pipeline into the NFL. The comments by NFL greats like Harry Carson should calm the minds of NFL owners and NFL executives because kids can develop into great football players without playing football before entering middle school. The importance of pushing flag football will be very important for youth football because it lessens, not eliminates, the possibility of concussions and collisions associated with youth tackle football. It will be up to the parent to decide if they will allow their child to play tackle football, play flag football, or avoid the sport of football entirely.
Staff Writer; Mark Hines