Golfing and a Few Other Fun Things to Do in Dubai.
(ThyBlackMan.com) You want to go on vacation, and you have the time, money, energy, and motivation to go anywhere. Unfortunately, you have no idea where to go. Although a whole world of adventure is open to you, the only thing you're clear about is that you'd like to play a few rounds of golf on a world-class course.
Where will you go?
You can go to Dubai in the United Arab Emirates. It has one of the most amazing skylines that you'll ever see and plenty of sun, sea, and sand. You can shop until you drop and enjoy many superb attractions. It's a city of unrivaled hospitality, awash in luxurious 5-star hotels, and renowned as a foodie heaven. And, if that's not enough to convince you, the best golf courses in Dubai also happen to be the finest on planet earth.
Dubai's Golf Story
In 1988, Dubai opened its first grass course, and since then it's been committed to promoting the sport. Many of the world's best golfers have played here–legends like Tiger Woods. They come for The Omega Dubai Desert Classic, an annual professional golf tournament that's been part of the European Tour schedule since 1989. In fact, it's the first European Tour event in the Middle East.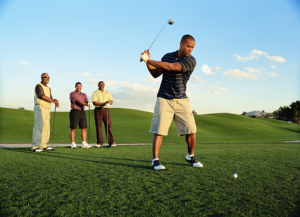 When you're in Dubai,  some of the top courses you should consider playing at are Emirates Golf Club (Majlis Course), Jumeirah Golf Estates, Dubai Creek Golf & Yacht Club, The National, Abu Dhabi Golf Club, Abu Dhabi Golf Club, The Els Club, and the Saadiyat Beach Golf Club.
When you're not golfing, there are plenty of other things you can do in Dubai, like going shopping and visiting its downtown attractions.
Shopping in Dubai
Shopping in Dubai can be divided into two distinct experiences—modern shopping and old-world shopping.
1. The Modern Shopping Experience
The Dubai Mall, a world in itself, spreads out over 13 million square feet. It houses over 1,200 stores, has numerous high-end restaurants, and prides itself on its mind-boggling entertainment attractions.
Besides its size and opulence, what makes the mall iconic is its entertainment centers, which include Dubai Dino, Reel Cinema, Dubai Ice Rink, The Emirates A380 Experience, Dubai Aquarium & Underwater Zoo, and KidZania.
Dubai Dino, in The Souk Dome, is home to a 155-million-year-old dinosaur skeleton.
Reel Cinemas boasts22 screens, deeply comfortable reclining chairs and ultra-clear THX-certified sound systems.
Dubai Ice Rink is designed to satisfy beginners and polished skaters alike.
The Emirates A380 Experience is a state-of-the-art Emirates A38 flight simulator to help you experience the thrill of flying a large passenger plane.
Dubai Aquarium & Underwater Zoo offers the wonders of nature with more than 33,000 animals.
Finally, KidZania allows children to role play a wide variety of adult jobs and professions.
2. An Old-World Shopping Experience
Start with a visit to Gold Souk, where you'll be dazzled by thousands of items of gold jewelry hanging in shop display windows.
After you've had your fill of gold, walk down the cobbled streets alongside wooden panel, until you get to the creek. There, take an abra, a small boat, to cross over to the oldest part of the city to visit Meena Bazaar and the Spice Market.
At the Arabic market, you can sift through textile, carpets, spices, and all other types of old-world goods. Be sure to bargain with abandon–because the sellers will be disappointed if you're too naive to even try.
Visiting Downtown Attractions
When you go downtown, take a trip up the Burj Khalifa, the tallest building in the world, and watch the Dubai Fountains at night.
1. At the Top
There are two ways to get tickets for At the Top, the observation deck on the 124th floor. The first is to book online and the second is to buy at the door. Online booking is the superior option because you'll pay a quarter of the price and get to choose your best times. At the observation deck, you'll enjoy a panoramic view of the city.
2. The Dubai Fountain
The Dubai Fountain is located outside the Dubai Mall and directly below the Burj Khalifa. It's a magnificent water fountain show played every half-hour after the sun sets. Jets of lit up water dance in perfect synchronization with popular musical ballads.
Dubai is definitely a place that you want to cross off your bucket list. If you have a blogging business, then you'll have plenty of adventures to share with your readers.
Staff Writer; Peter Ford