9 Ways You Can Make The Most of Your iPhone X.
(ThyBlackMan.com) Want to master the iPhone X with all the new tips and tricks you can try? You're at the right place as we have picked 9 most amazing iPhone X features and settings to make the most of your smartphone. Learn how to unlock your iPhone X to its full potential.
1. Exclusive AR Snapchat Lenses
The iPhone X owners can use three exclusive Snapchat lenses developed for the smartphone's TrueDepth front-facing camera. These lenses include a Day of the Dead skull, a Mardi Gras-esque mask, and a gold-plated eyewear. The TrueDepth technology powers the smartphone's Face ID and is now being used by Snapchat's iPhone X exclusive filters.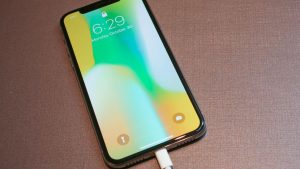 2. The Virtual Home Button
The iPhone X has no place for a physical Home button, but you can bring the button back in its virtual form. Just go to the Accessibility option inside the General settings and toggle on Assistive touch feature. Doing so will bring a customizable virtual home button on your screen and you can activate shortcuts, as well.
3. Switch Apps Like A Pro
Swipe gesture is the biggest difference between the iPhone X and other iPhone models. On iPhone X, you can switch apps without having to pull up the multitasker. To do that, just swipe left and to the right at the bottom and get the job done. If you want to add some apps you weren't using recently, swipe up from the bottom and hold.
4. Closing Apps
You don't need to close individual apps again and again because iOS handles multiple applications very well. But if you want to specifically close certain applications, there's an easy way to do so. Open the multitasker, press and hold the app icon and you'll get to see a close (-) sign. Swipe up or hit the 'close' sign and your job is done.
5. Attention Aware features
The real technology behind Face ID feature is the TrueDepth camera. But it is not just limited to the Face ID feature, in fact, you can use it to enable attention aware features on iPhone X. The Attention Aware features can be enabled from Settings > Face ID. Once enabled, this feature detects if you're paying attention to your phone. If the iPhone X detects you're looking at the screen, it performs some automated tasks such as reducing the display brightness, silencing alarms, silencing incoming call alerts etc.
6. Help Improve Face ID
Face ID fails for people who either hold their iPhone X in funny angles or simply make significant changes to their looks. If Face ID fails to recognize the user, it asks the user to enter their device's passcode. Don't panic in such situations because if you're entering the passcode and unlocking your phone, the iPhone X will know that it's you and the phone will add the data captured during its failed attempt to improve the accuracy of Face ID.
7. Force Restart
If your iPhone X is not behaving normally or simply freezes, don't panic. Just press and release the volume up button quickly and then press the volume down button, and press and hold the side button. Remember, you don't need to hold volume buttons after pressing them. After holding the side button for around 10-15 seconds, you will see the Apple logo and your phone will restart.
8. Save Images in JPG Format
If you're storing images in the iPhone X, the phone, by default, stores them in a new format called High-Efficiency Image Format which you can see in the file extension HEIF. The format is not supported by many mobiles and PC software hence making it difficult to share the same via email and other applications even though the images get converted to JPG format. If you want your iPhone X to store images in JPG format, just change the camera image formats from 'High Efficiency' to 'Most Compatible'. You can find this option under Settings.
9. Take Photos While Recording
If you feel like taking photographs while you're recording a video, you can do both at once. You can take pictures while recording a video and you can do this by just tapping the white circle on the left side of the recording button. The dual-lens camera on iPhone X allows users to get videos and pictures at the same time.
Staff Writer; Corey Shaw
Have any Tech Tips? News? Hit up our Tech Guru at; CoreyS@ThyBlackMan.com