Apple's Foldable Phone: Gathering All the Evidence Proving Its Existence.
(ThyBlackMan.com) In not-too-distant future, probably by 2020, we might see Apple's foldable phone with scrollable/flexible displays. Patents released in the last couple of years show that Samsung, Lenovo, and Microsoft are also working on foldable smartphones. Apple is known for maintaining secrecy around its upcoming products, but the evidence is offering a glimpse of Apple's foldable phone.
A scrollable display device
The US Patent & Trademark Office recently published some patent applications and some of them suggest that Apple could be working on a device with a scrollable display. This display could be flexible enough that the users can just roll it up. The display will be having two cylinders at its corners and these cylinders will likely contain all the rigid components like cameras, speakers etc.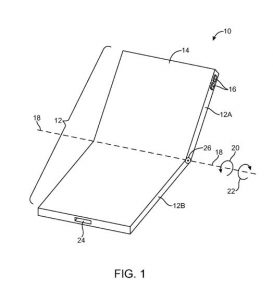 Should we expect a smartphone with a scrollable display which can be worn on the wrist or forearm and gets fit according to the wrist size while the two cylinders act as magnets to keep the device in place?
Apple's foldable phone is coming in 2020
Bank of America Merrill Lynch suggests Apple is working on a foldable phone with suppliers in Asia. While expressing its views on the buy rating for Apple shares, the firm says in a note to its clients. Analyst Wamsi Mohan also revealed that after meeting several Apple suppliers in the Asian region, he came to know more about Apple's plans for its next smartphones. The firm expects that iPhones this fall will be largely unchanged. Many analysts have already predicted the arrival of foldable smartphones.
Apple could team up with LG for a foldable phone
Before Apple partnered with Samsung for displays, LG and Apple were working together for LCD screens. According to a report from a Korean media outlet, Apple's foldable phone will come out as a result of a strategic partnership between Apple and LG. It is being said that the two companies are in talks about investment in LG's plant for production of the OLED display. It's interesting that LG has completed the production of its foldable OLED display prototype and the company has been working on upgrading the display's yield rate and durability since last two years.
One More Patent Shows Apple's Risky Gamble
One of the patent applications filed by Apple was published in 2016 and surprisingly, it shows a very different design than what we saw in other images. The patent suggests that it is an electronic device with a foldable display. But unlike the scrollable display we saw in other patents, this one can be folded in both directions and appears to be rigid. It means that you can fold the display inside or in different directions to have displays on both the sides. This idea seems like Apple will combine two screens working as a single display depending on the mode selected by the user.
Apple's Foldable Phone & Samsung's Galaxy X Could Have Similar Design
Samsung has already flirted with smartphones with foldable display and with the Galaxy X, the company is taking a big step forward. It seems that Apple is also following the same design path and both the companies will end up launching foldable phones with a similar design.
A patent application filed by Apple shows that the company is also working on a similar way to reduce the space required by smartphone battery. This can be done by distributing the battery across the display in form of thin layers. Samsung showed off its flexible battery during an event in South Korea in 2014. The battery is so flexible that it can be wrapped around the wrist.
The iPhone X is arguably the best smartphone available and its design, Face ID system are truly amazing. But now when we are looking forward to the release of Apple's foldable phone, the iPhone X is a history. The real thing is coming (probably in 2020) and it will make the existing range of smartphones look old.
Staff Writer; Corey Shaw
Have any Tech Tips? News? Hit up our Tech Guru at; CoreyS@ThyBlackMan.com