Burj Al Arab Remains Most Popular Hotel for the Ultra Rich.
(ThyBlackMan.com) Do you want to experience how some of the wealthiest people in the world live? If so, then you might want to check in at Burj Al Arab, the famous sail-shaped hotel that exudes luxury everywhere you look. Just be sure that you have enough travel money, as you will have to shell out thousands of dollars a night.
According to New World Wealth, those who have more than $1 million in their bank accounts rank Burj Al Arab on top of their list of for booking best hotels in the UAE. This shouldn't come as a surprise considering that the hotel was designed specifically to attract the ultra-rich.
The luxurious experience begins with a chauffeur-driven Rolls Royce, taking you to the grand entrance where you'll be greeted by the lavish exterior made from sumptuous materials including the rare Statuario marble, a 21,000 square-foot 24K-gold leaf, and locally-crafted wooden doors. If you have some extra cash, you can even choose to arrive by helicopter.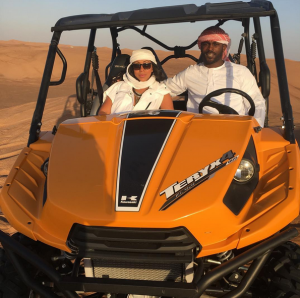 Aside from the extravagant interior, what sets Burj Al Arab apart from other hotels in Dubai is its highly-personalized service. Each floor has a private reception, ensuring that guests will receive prompt assistance whenever they need it. A team of personal butlers is always ready and willing to attend to the needs of clients and make sure they're having the best vacation in Dubai.
The Burj Al Arab is also popular for its two Royal Suites, which make their other lavish accommodations look lackluster. Both are located on the hotel's 25th floor, dividing it equally into two. The entry hall alone is jaw-dropping, embellished with marble and gold.
The suite measures 8,396 square feet. Some of its features include a master bedroom with a rotating canopy bed, a private cinema, and a dining room that can seat 12 people. Staying in such a luxurious suite requires attentive service, which is why you can find 27 phones all over. There's also a 24K-gold iPad which doubles as a virtual concierge if you prefer something a little fancier.
There's nothing unassertive in the Burj Al Arab. The overall experience is meant to take your breath away, which explains why the richest people prefer it over other Dubai hotels. While only a small percentage of the world's population can ever afford to stay at this seven-star hotel, the ultra-high price tag never fails to pique the interests of the general public.
A testament to this is BurjAl Arab's powerful social media presence. The hotel likes to give prominence to guest-submitted photos, providing their millions of followers with a glimpse of what it's like inside. They also upload their own photos, most of which gets tens of thousands of likes in a day. Even a simple snap looks gorgeous because of the sheer magnificence of the hotel's interior.
There are no signs of slowing down for the Burj Al Arab. With major development projects going on around the hotel, it won't be a surprise if it continues to be the go-to hotel for the world's most affluent.
Staff Writer; Karl Poole