5 Predictions For The Next Battlefield Game.
(ThyBlackMan.com) The new Battlefield for 2018 is coming this October and it's the time to talk about how will the biggest game of the year look like. By calling it "the biggest", we don't mean that it will eclipse the "Call of Duty" franchise, but it is, of course, one of the games everyone is eagerly waiting for. Electronic Arts is not talking much about the game but as soon as the company starts sharing details, we can expect that some of the below mentioned predictions turning out to be true.
It will have assets from Battlefield 4
Even if the game features a historic setting, it's just illogical to make players wait for a long time to finish reloading. Developers at EA have shown their magic in previous games and we expect to see this liberty with weapons in the upcoming game. The game will most likely feature prototype guns and items from a different era, and with the new game, players will see the game coming out of the WW2 iconography which we have seen so many times. When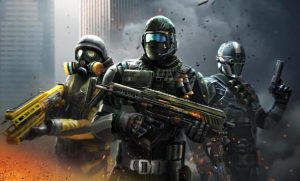 Battlefield 1 was released, one of the biggest disappointment was the scarcity of weapons and customization options which was not an issue in BF4.
It will not have futuristic warfare setting
Both Battlefield and Call of Duty franchises have tried their best to convince players for a futuristic setting. Especially the Call of Duty franchise found it hard to please fans with Advanced Warfare which is set between 2054 and 2061 and follows the story of a Marine Corps and his interactions with a privately-operated military corporation. EA's Battlefield Hardline also didn't receive the love publisher hoped. So a futuristic or present-day setting will not be on the cards. There are talks about the new game featuring the World War I, World War II or Vietnam War settings.
It will have improved progression, customization options
Developers will most likely experiment with character progression and customization options in this new game. Assets will grow and there are chances that the developers will use weapons from the other games released under the EA banner. Battlefield 4 features some weapons from the other games and it is possible that the next Battlefield game will follow this pattern. Some of the new and upcoming DLC packs of EA games can also give a clue about what fans can expect from the next Battlefield game.
It will have loot boxes
Games like the next Battlefield will have loot boxes. It is pretty common these days that game developers like EA are bringing loot boxes to their new games. The company will obviously learn lessons from the disasters happened due to loot boxes in games where the features turned out to promote pay-to-win tactics. Decisions like Destiny 2 and Star Wars Battlefront II are surely not going to be followed for these releases, but it seems that loot boxes will be widely accepted. Recently, in EA's quarterly earnings call last month, executives said that the concept of loot boxes was not conveyed to people in the right way. Some people believed that it is more like gambling but authorities have agreed to the fact that loot boxes are not a form of gambling.
It will not have battle royale
Many fans are expecting to see the impact of PlayerUnknown's Battlegrounds on the next Battlefield game but EA will likely not include a similar battle royale mode to the upcoming game. PUBG has done something really innovative with changes in levels and has also given us a new way to look at first-person shooters, but it doesn't really mean that EA will include a battle royale mode in Battlefield. The company will likely focus more on changing the map design and core gameplay.
It is very interesting that EA is considering 2018 for a new Battlefield game release and has delayed Anthem release. In 2016, the company released Titanfall 2 just a few days before Battlefield 1 and investors were upset.
Staff Writer; Corey Shaw
Have any Tech Tips? News? Hit up our Tech Guru at; CoreyS@ThyBlackMan.com