How RGIII and Johnny Manziel hurt the anti-Kaepernick argument.
(ThyBlackMan.com) The hardest position in sports is that of NFL quarterback. NFL defenses are as complex and complicated as ever before while the speed, size, and athleticism of NFL defenders is at an all-time high. NFL quarterbacks have to throw difficult passes to wide receivers and other targets while also trying to read defenses and avoid athletic defenders like Denver's Von Miller, Rams' Aaron Donald, and Oakland's Kahlil Mack trying to bring them to the ground very hard. One of the more interesting NFL quarterbacks to join a new team this NFL offseason is former Heisman Trophy winner Robert Griffin III, as known as RGIII, who has signed with the Baltimore Ravens. Griffin III is hoping to get his NFL career back on track like another former Heisman Trophy winner Johnny Manziel, who has received some NFL attention recently as well. Both Griffin III and Manziel have remained viable NFL quarterback options while former 49ers quarterback Colin Kaepernick remains unemployed, which remains head-scratching.
The Baltimore Ravens are among the most successful NFL franchises over the past 10 years, with multiple playoff appearances and a Super Bowl championship during the 2012 NFL season.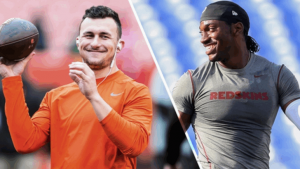 Ironically, the Ravens defeated the 49ers to win Super Bowl XLVII as the starting 49ers quarterback for the Super Bowl was Colin Kaepernick. The Ravens signed Robert Griffin III to likely serve as the backup quarterback to longtime starting quarterback Joe Flacco.
Although Griffin III and Colin Kaepernick did not play in the NFL in 2016, Griffin III has gotten another opportunity to play in the NFL despite Kaepernick being more productive than Griffin III in 2016. According to advanced statistics, Kaepernick posted a Total QBR of 49.2 in 2016 with the 49ers while Griffin posted a Total QBR of 36.4 in 2016 with the Cleveland Browns while playing five games. Clearly, the Ravens felt the durability issues that Griffin III has had in his NFL career makes him a better option than the "distraction" of Colin Kaepernick.
Former Texas A&M star quarterback Johnny Manziel is also trying to get back into the NFL after missing the 2016 NFL season. Manziel also missed the 2015 NFL season after being released by the Cleveland Browns despite being a former first round pick. Manziel's NFL career was shortened by off the field issues and his lack of focus but he has generated some NFL interest after participating in the Pro Days at Texas A&M and San Diego. While NFL scouts were there to evaluate the NFL potential of prospects at both of those schools, some NFL scouts did discuss Manziel's performance throwing the football. One veteran NFL scout said, "I thought he looked better throwing the ball today than he did four years ago.' Another NFL scout said about Manziel's performance, "The ball came out quickly".
While Manziel's two year absence from the NFL was due to his bad decision-making off the field, Kaepernick's one year NFL absence due to his protest flies in the face of the meritocracy that the NFL prides itself in being and Manziel has even referred to the differences between himself and Kaepernick. The common denominator between Robert Griffin III, Johnny Manziel, and Colin Kaepernick is that all are quarterbacks that use their mobility to help them succeed as quarterbacks and they all did not play in the NFL during the 2017 NFL season. While Griffin III is getting the opportunity to play in the NFL in 2018, Manziel has at least gotten the look and talk of NFL scouts, but Kaepernick finds unfortunately finds himself on the outside looking in.
Staff Writer; Mark Hines