How to Create the Perfect Playlist for Your Workouts.
(ThyBlackMan.com) For most people, working out is something that requires motivation and even a little inspiration to get you through your routine. Without those it can be tempting to cut your workout short, or worse yet, not do it at all. One thing that can act as a huge motivator for people is to have a playlist of all your favorite tunes on hand. These are tunes that energize you, give you motivation, and help you to feel strong.
Rather than searching for songs each time you work out it's much handier to build your own customized playlist. This means whenever you're ready, your music is also ready. Here we'll take a look at how to create the perfect playlist for your workouts, from the music you pick to the specifics on how to convert songs into MP3 files.
Tips for Picking the Music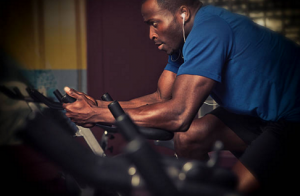 The music that you pick for your workout can literally transform the way you work out. It not only provides you with energy and motivation, but it can also help with the tempo of your actual routine. Most people find that high-energy songs are the best ones, something that has a clear and catchy beat that you can really get lost in.
The whole goal is to pick music that drives you forward and makes you forget about the pain you may be while doing the various exercises.
The Order of Your Playlist
Now that you've picked a variety of songs, it's time to think about the order of your playlist. Ideally you want to start things off with a highly motivational song. Experts state that the first song you listen to can actually dictate how your workout will progress. From there, pick a variety of music with varying beats and from different artists. This will help to keep things fresh. Don't forget to also include some cool down music to help you relax at the end of a hard workout.
Use the Music Beats to Help with Your Movement
You can even take your music one step further and use it as part of your workout. You can actually move to the beat of the music, which can help people to have a more effective session. This is especially true if you're cycling, running or using a machine like the elliptical.
Invest in a Portable Music Player Device
Of course, it's impossible to listen to your music if you don't have a device to play it on. Investing in a good quality MP3 player will allow you to access your music whenever and wherever you are. Also, earbuds are a must so that everyone else doesn't have to listen to your playlist as well. If you've got a few favorite YouTube videos you can use the http://www.freemake.com/blog/best-youtube-converters-for-any-device/ instructions on how you can convert that video to an MP3 file.
Enjoy Your Music and a Productive Workout Session
Music can make a huge difference when it comes to working out, giving you the motivation, energy, and even inspiration to keep going and really strive to meet your goals.
Staff Writer; George Ford